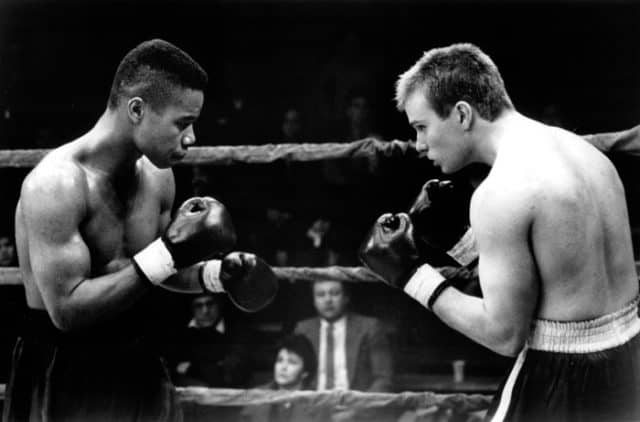 First off this is not the Gladiator that Russel Crowe made so famous, but a movie about a young boxer that is attempting to fight in order to clear his father's gambling debts. Back in 1992 when the hangover of the 80's movies and their soundtrack wasn't quite over yet this was one of the more inspirational and well-accepted movies of the time that showed a young actor stepping up to a role that demanded little in the way of real development but a lot in the way of action. Tommy was there to do one thing and one thing only, and that was throw punches until the last guy had fallen.
It was the kind of movie people really responded to back then.
10. James Marshall trained extensively for this role.
He trained four hours a day, five days a week for four months for this role. He split his time between boxing, weightlifting, and jogging.
9. This was Marshall's first and last leading role.
He wasn't exactly cut out for the lead role it seems since there is a lot more responsibility and therefore pressure involved in it. Some actors are just better as supporting characters.
8. The school that they shot the scenes at was McKinley High in Chicago.
The school wasn't operational at the time the movie was made as it had been closed down and then used for vocational learning.
7. Walt Disney attended the same high school used in the movie for a brief period of time.
He was there from 1917 to 1918 and dropped out to join the US Army. Since he was too young though he joined the Red Cross.
6. Brian Dennehy was born in the same city where Tommy claims to have won the Golden Gloves.
This was in Bridgeport, CT where Dennehy came from and where Tommy alludes to winning the Golden Gloves.
5. James Marshall had many credits to his name before this film.
He was given an 'introducing' credit in this film but he'd already had a few parts to his name by then. He was on Twin Peaks at one point.
4. Marshall and Gooding Jr. appeared in A Few Good Men later on.
They would be minor players for the film so it's kind of understandable why no one would remember all that well.
3. Gooding Jr. and another cast member appeared in Boyz n the Hood.
He starred in the movie with Vontae Sweet but it was Cuba that really got noticed in this film since it allowed him to become the star that he was for years after.
2. The film didn't do that well at the box office.
Despite being the kind of movie that usually got decent reviews this was one of those that kind of lingered around the idea of being an 80's movie a little too much and it suffered for it.
1. The original score was discarded in favor of a different one.
Jerry Goldsmith's original score was scrapped in favor of one created by Brad Fiedel.
It could have been something mediocre to great but the casting was probably the biggest issue.