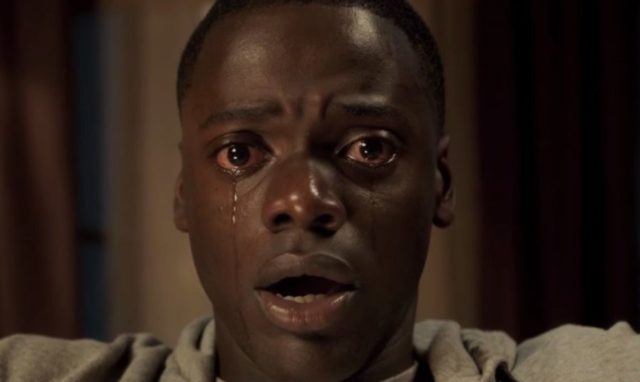 It's got to be one of the creepiest and most deliberately racist movies in a long, long time. But somehow the director pulled it off and Get Out became a movie that people just had to go see. It was interesting in a way until you came across the real plot, which was akin to a slap in the face for staring right past it and not seeing it for what it was. Once you get the gist though and realize just why the family in the movie gives you the creeps you can't help but really start to root for the male lead and hope that he gets a measure of payback.
But how much of the movie did you really know?
10. Rose never sticks up for Chris.
When the cop asks to see his license she's not really sticking up for him by speaking up, she's avoiding a paper trail that could lead to her family.
9. There was a reason Georgina spilled the tea.
This happens when Missy clinks a spoon against a glass, sending Georgina into a state of hypnosis.
8. The front of the Armitage's home feature Omega symbols.
Omega is quite literally the end. This is a foreshadowing of Chris's intended fate at the hands of the Armitage's, though I'm sure a lot of people didn't notice it.
7. There's a pronoun slip when Dean remarks how he couldn't let his parents go.
He says he couldn't let them go, but in truth he meant his parents, not Walter and Georgina.
6. Walter was probably having flashbacks when he was running towards Chris.
Keep in mind Dean's father was said to have raced against Jesse Owens in the Olympics. He no doubt was reliving the moment and trying to push himself because of it.
5. Walter is always wearing a hat and Georgina is always fixing her bangs.
They hide the lobotomy scars pretty well and are therefore important to each character.
4. Everyone at the party is wearing red in some form.
In some cases red might be considered the color of passion, but in this case it's a pretty clear danger sign since Chris is wearing blue and he's the only one.
3. The imagery of picking cotton is seen when Chris rips it out of the chair.
The racial undertones are pretty specific and they're virtually everywhere in the movie. It was obviously meant to be this way, but a lot of people might have ignored them.
2. The actor playing Dean was also in Billy Madison.
You remember Eric right? He was the evil-minded guy that wanted Billy to fail and did everything in his power to make it happen. Hey, Eric and Dean kind of have something in common.
1. Rose eats cereal without dousing it in milk, showing a decided reluctance to mix anything white with anything non-white.
It stands to reason that the argument might fall apart since she's with Chris for the duration of the movie, but then she proves to be a very astute actress and is all too happy to reveal the ruse.
Thankfully Chris did manage to get out.