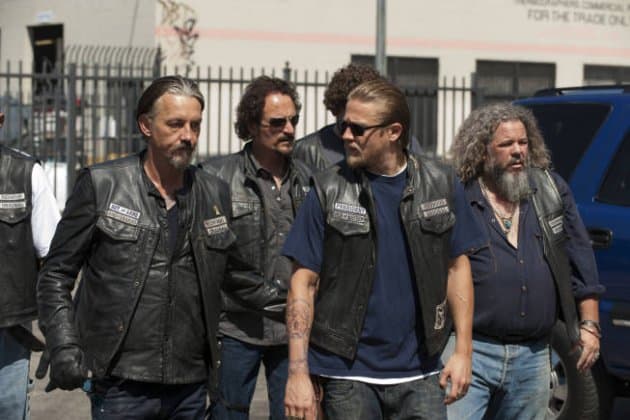 Since it premiered on FX back in 2008, Sons of Anarchy has become of one the cable network's most successful series of all-time. With each passing season, viewership for Sons of Anarchy has increased, and the community of fans has grown exponentially, as those who love the biker drama constantly watch, talk, and tweet about it whenever they can. This past Tuesday, when Sons of Anarchy aired its seventh and final season premiere, it was expected that the show would bring in high ratings; however, with 6.2 million viewers and a 3.2 demo rating, Sons surpassed its series high record for ratings, making it not just the most watched cable program of the night for adults 18-49 but the most watched show on any network at that time on Tuesday. So how has the FX drama become such a major television hit over the course of its six-plus seasons? These 10 reasons will explain why Sons of Anarchy has found such success.
Kurt Sutter
One of the most important components to any successful television series is a strong voice, and with series creator Kurt Sutter, Sons of Anarchy certainly has that. Sutter, who worked on all seven seasons of FX's The Shield as both a writer and a producer before getting the chance to create his own show, was familiar with gritty, violent, and dark drama. Due to in large part to his experience on The Shield, where he quickly got promoted from staff writer to story editor by season two, Sutter has never been afraid to take any of his characters in unlikable directions and gained an ambition for shocking and surprising story twists.
Additionally, no topic, no matter how controversial or taboo it might seem, has been off-limits to Sutter. Racism, rape, and even school shootings have all found their way into Sons of Anarchy, but have been, for the most part, dealt with in ways that do not feel exploitative. Sutter uses these events not for their shock value (although they are indeed shocking most of the time) but to allow for the characters to learn something new about themselves, to discover a deeper sense of strength or uncover a darkness that they had barely seen before. Also, in order to ensure that he had the right look and feel of what a motorcycle gang would be like, Sutter actually went and spent time with members of outlaw biker gangs in Northern California before the show began, ensuring Sons possesses a certain level of realism even in the most heightened of dramatic situations. Ultimately, the result of all these factors is Sutter's distinct voice, which is primarily responsible for what makes Sons of Anarchy what it is. However, it didn't all spawn from Sutter's mind–he did have a little help.
Shakespeare
Countless times in numerous interviews, Kurt Sutter has said that a great deal of his inspiration for Sons of Anarchy came from William Shakespeare's Hamlet. In fact, and I may be misquoting slightly here, I believe I once heard him refer to the show as "Hamlet on motorcycles." Thus, when Sons, which has its fair share of over-the-top dramatic moments, feels overtly tragic, almost as if it's a soap opera geared towards men, look no further than the source material. The central structure of the series is unquestionably taken from Hamlet, as it revolves around a son who take vengeance upon his uncle (who gained power by killing his father and marrying his mother), all while being haunted by the ghost of his father. That sounds just a little bit like Jax wanting to get revenge on Clay, who murdered his father and married his mother, Gemma, as he consults the ghostly presence of his father (manifested through the letters that JT left behind). It's this basic format, this almost timeless and universal story of family and revenge, that allows for so many different types of viewers to enjoy Sons of Anarchy. Kurt Sutter didn't reinvent the wheel–he just adapted it in a new and interesting way.
Charlie Hunnam
If anyone has tried to act out Shakespeare before, you know it's not easy, and even on a show that just possesses Shakespearean influences, not the language or exact story points, it's still a very tricky task to manage the incredible dramatic moments that occur. That's why if Sons of Anarchy was going to be successful it needed a strong lead, and the show has always had one, especially in its later seasons, with the consistently great Charlie Hunnam. Without Hunnam's stellar performance as Jax, the show would absolutely crumble. No matter what weird thing Tig is talking about or whatever convoluted business storyline Nero has the gang wrapped up into, the emotional center of Sons has always been Jax's struggle over how he should act, over how he should lead: like his father or like Clay. We've seen Jax behave like both men since he took on the role as president of the club at the end of season four, and Hunnam has played every assured and questioning moment perfectly. Hopefully, Jax is able to forge his own path in this final season of the show, but one thing is for sure: if Jax Teller's story is ultimately unsatisfying, it won't be because of Hunnam's performance.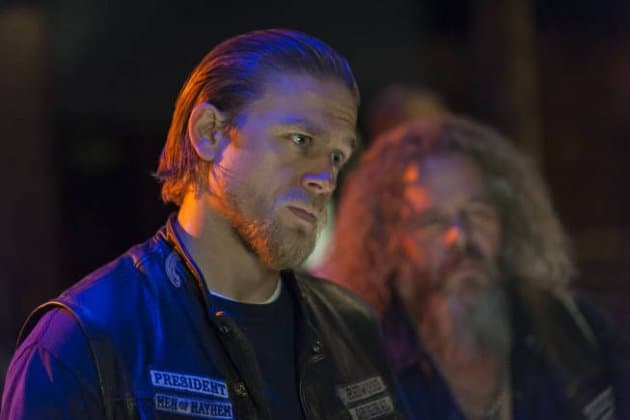 Katey Sagal
Every much Hunnam's equal, Katey Sagal has always been electrifying on Sons of Anarchy, even when the show's writing has sometimes failed her. Her performance in the show's second season, widely considered by many (including myself) to be the series' best, was Emmy-worthy and one of the biggest draws to fans who were maybe a little unsure of how good of a show Sons really was after its first season. Every episode in season two, as Gemma dealt with both the physical and emotional trauma of being raped by Zobel's gang, was a standout moment for Sagal, who showed just how talented and diverse of an actress she was (since she had been most famous in the past for providing laughs as Peg Bundy in Married…with Children). Throughout the six-plus seasons of Sons of Anarchy, Gemma has not always been the most likable character (I myself haven't been a fan of her since the end of season four), but whether she's asked to play tender, loving grandmother or ruthless biker queen, Sagal is always believable in the moment and grounds the sheer lunacy that most episodes of Sons are with her steady and impressive work, week in and week out.
The music
Music on television is key to eliciting emotion. Sometimes silence can be more powerful than the most heart-wrenching song in the world, while other moments call for either a big, grand orchestra or a more subdued, melancholic acoustic recording. Despite the fact that Sons of Anarchy uses musical montages a little too much these days (when you have one at the beginning and end of almost every episode, it starts to make your show feel kind of like a music video), the series has utilized music very well in the past, picking out just the right songs and more unique renditions of them that enhance an already great scene. Two of my favorite musical moments from Sons are the ending montages to the second and third season finales, but you only need to look at the closing song of the show's final season premiere (an incredibly original take on "Bohemian Rhapsody" by Queen) to look at how Kurt Sutter and company can find almost always find the ideal type of music and make it fit with the right moment. Very few shows on TV do it better than Sons does.
Guest stars
Joel McHale. Peter Weller. Walton Goggins. Donal Logue. Need I say more? Those are just four names on the incredibly long list of guest stars that have appeared on Sons of Anarchy, and all of them, whether they were playing an ally or an enemy of SAMCRO, have been so committed to their roles and even elevated the great performances from the show's central cast. During this final season on Sons, we've already had Marilyn Manson guest star in the premiere, and we still have appearances by Glee's Lea Michele, Courtney Love, and the return of Goggins as Venus Van Dam to look forward to.
Paris Barclay
Kurt Sutter may be the person who sets the foundation of what each Sons of Anarchy episode will be like, but in order to have it truly visualized, to ensure it's something incredibly spectacular, it needs the touch of Emmy winner and longtime Sons director Paris Barclay, who has directed some of the series' best episodes. To see what I'm talking about, with regard to how Barclay visualizes the scripts that Sutter writes, just check out this excerpt from a recent interview Barclay did with Entertainment Weekly about filming the final season premiere:
"Even though it wasn't in the script, I just imagined it was raining for some unknown reason. I just imagined it had that low-barometric-pressure, the-sky-has-gotten-dark-earlier, rainy feeling. It hardly ever rains in Charming, if you've noticed over seven seasons, so I thought this would be something unique to do. But as I thought about it, I said, 'Well, that means it's gonna have to rain in every other scene in this montage. And then it ended up raining when they buried the bodies at Chigger Woods, which was fantastically beautiful. So just by backing into that, thinking about the killing scene first just having the rain, it ended up giving us a lot of benefits for all the other scenes: The rain on Gemma's face when she's talking to Tara. And then I go to Paul Maibaum, who's been our director of photography from the beginning, and I say, 'Paul, if it rains, what does that mean for you?' He said, 'It means beauty.'

"So by the time we came to shooting it, we had something that was pretty well worked out–a ballet of death, as I call it."
Jax and Tara
On a gritty, crime-filled drama about a motorcycle club full of outlaws, you wouldn't expect a romance to be the beating heart of the series. However, for Sons of Anarchy's first six seasons (and now even into the show's seventh and final season, with Tara's death still fresh in the mind of Jax and her ghost still lingering), the on-again and off-again romance between Jax Teller and Tara Knowles kept both female and male viewers invested in the show. It was never so much a story about if they would end up together, because you knew that Jax and Tara would wind up marrying each other and eventually did at the start of season five. No, the question concerning Jax and Tara was always about whether the two of them would be enough–enough for Jax to leave the club behind, enough for them to get out of Charming, enough for the both of them, no matter what else was happening in their lives. For a while, it appeared like that would be the case, but since we know this show is modeled off a Shakespearean tragedy, we should have predicted that darkness was looming right around the corner. However, the end result (Tara's death at the hands of Gemma, a detail that is still unknown to Jax at this time) doesn't lessen how enjoyable it was to watch Jax and Tara's ill-fated romance for six seasons, as we as fans sat in front of our television screens always expecting the very worst to happen while continuing to hope for the best.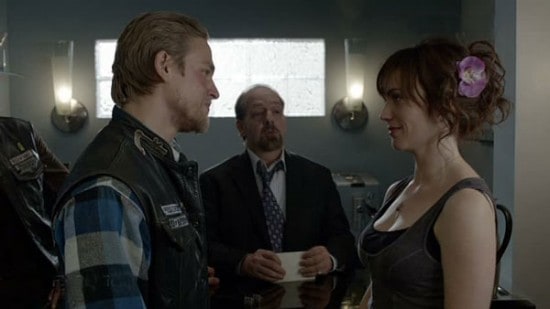 Brotherhood
All people, both men and women, desire that sense of belonging, those bonds of family, and it doesn't always need to come from our blood relatives. A lot of the times, the most important people in our lives are our friends–they become our brothers and sisters–and not many television shows embody that idea better than Sons of Anarchy. Once you put on that leather cut, you are a member of SAMCRO, a brother to the men sitting at the table next to you, and they would die and kill for you. Even though some of the members of SAMCRO are more developed than others (guys like Tig, Bobby, Chibbs, Juice, and even Happy are much easier to connect to and sympathize with than the nameless new guys that have floated in for these past couple of seasons), when they are all together, whether's in a montage scene back at the now-destroyed clubhouse or a more quiet and thoughtful exchange at a club meeting, Sons of Anarchy not only stresses the idea that family is not simply just blood but also illustrates it through the connections that these men share with each other. Look no further than one of the best TV friendships of all-time: Jax and Opie.
Ambition
Despite everything else I've said above, the number one reason why Sons of Anarchy has found so much success lies in the show's ambition. It's never shied away from anything on the basis of political correctness and never avoiding storylines because they may be deemed "too much," and while the show has struck out sometimes (I personally don't think Sutter and the creative team ever truly justified the need for the school shooting that occurred in the season six premiere–felt a tad exploitative), it usually hits them out of the park. Sons of Anarchy has always been bold. It has always been audacious. It has always been willing to take risks. And after the series ends in December, that's what it will be remembered for the most. Sons of Anarchy: one of the most ambitious television shows of all-time. That's not too bad of a legacy, is it?
Photos via FX