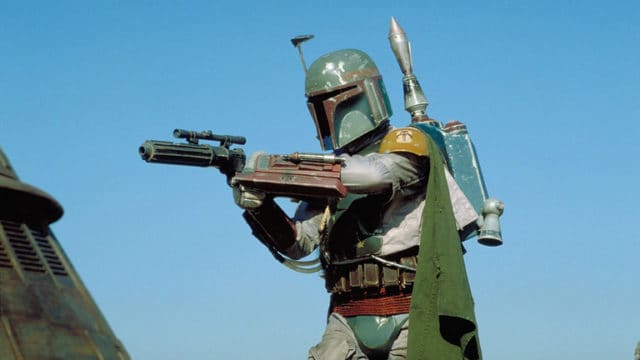 He is the premier bounty hunter in Star Wars, and he's not the kind of guy that just gives up on a bounty. Boba Fett has been beaten before and he's been sent hurtling into the waiting maw of a hungry Sarlacc, but he's managed to survive so many times when people thought he was dead that the bounty hunter seems almost immortal at this point. However there are certain things about Fett and his iconic armor that a lot of people don't know. Some are pretty interesting while others might make you cock an eyebrow and think that it's just weird that anyone would add something like this in.
Here's just a few things you might not have known about.
10. It carries trophies.
The braid you see dangling from one side of Fett's chest and arm plates is said either be wookie hair or that of padawans that Fett managed to kill. He's a bounty hunter, so it's not as unusual as you might think.
9. His helmet gives him eyes in the back of his head, so to speak.
His helmet gives him a 360 degrees heads up display that allows him to see just what's going on in any area. It sounds like it might be a dizzying experience, but it's saved Fett on many occasions.
8. Almost everything about the armor is a weapon.
There's not much of Fett's armor that doesn't conceal or isn't able to be used as a weapon. He believes in being well-prepared and has a voice activated command that can access many of the weapons that aren't readily accessible.
7. Fett was not born a Mandalorian, but managed to procure the armor.
His father Jango wasn't a Mandalorian either, but both of them were drawn to the lifestyle and the armor of the Mandalorians. In the old canon Fett would eventually become Mandalore after being accepted by the Mandalorians.
6. The Sarlacc couldn't digest him thanks to his armor.
The story varies really, but it's believed that Fett's weapon-laden armor was a big reason why he was able to escape the Sarlacc and blast himself to safety. It's also stated that a lot of the armor was disintegrated by the time he escaped.
5. The armor was designed to fight Jedi.
Fett hates the Jedi with a passion for taking his father from him, but the Mandalorians have had a long-standing feud with the Jedi after losing to them many years before. Their planet was just about wiped by the Jedi and so the Mandalorians devised their armor to fight the peace-keeping knights.
4. White was not a good look for Fett.
For someone that's supposed to be a low-key bounty hunter that blends into the scenery, white is just not a good color. Fett is better off with his armor looking dingy and ill-kept. This way his enemies never see him coming.
3. The armor was designed after the famed Death Watch.
The Death Watch were those that fell under the sway of Darth Maul and fashioned their armor to look like him. Fett took this design as his own.
2. The helmet design is that of the first Mandalore.
Obviously Fett doesn't care too much about Mandalorian history, but since this design came to define the Mandalorian helmet he used it as his own.
1. There's different stories about how the dent got put in Fett's helmet.
Two of the most popular are that Fett got into a fight with Cad Bane and took a shot to the head, while the other is that he was fighting Darth Vader and the dark lord deflected a bolt into his helmet.
Either way it means Fett is just flat out awesome.