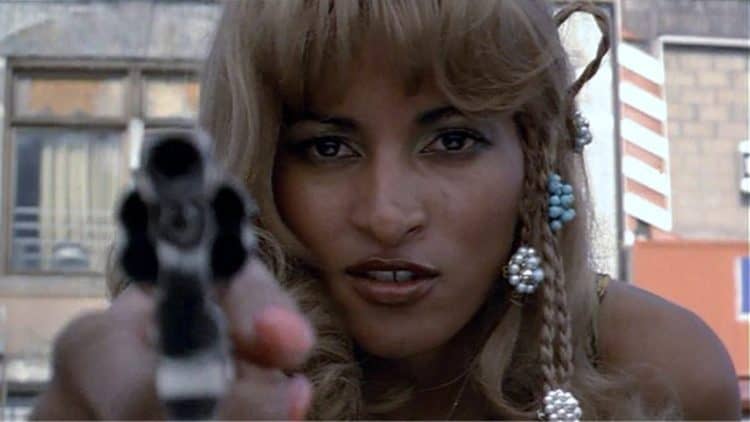 Pam Grier is a beautiful American actress who was an I.T. girl in the 70s. She was best known for her 'blaxploitation' type movies like Jackie Brown, Coffy, and her firm, sexy, and badass Foxy Brown role. She paved the way for a lot of female action stars today. Since Pam's acting career was at its peak in the 70s and 80s, there are probably several movies you might not know she appeared in over the years.
Poms
Released in 2019, POMS is a comedy movie about a group of women living in a retirement community. What is so unique about this group of grannies is they decide to start a cheerleading team. The star-studded cast for POMS included Diane Keaton as Martha, Jackie Weaver as Sheryl, and Pam Grier as Olive. The wholesome movie is based on a true story about the women of Sun City Poms. They started a cheer squad back in 1979, and they didn't let age stop them from chasing their dreams and living life to the fullest. Pam joins the golden girls as a cheer squad member as they train for a competition.
Mars Attacks
Another one is the Sci-fi movie, Mars Attacks which Pam has stated to be one of her favorite roles. In the film, Martians come to Earth and rage war killing millions. A few people survive, including former boxer Byron Williams while others manage to stop the alien invasion. The 1996 movie cast Pam Grier as Byron's ex-wife and named Louis Williams. In one of her scenes, she spots her two sons Cedric and Neville, playing video games at an arcade when they should be in school. Pam acts as a concerned and hardworking mother, just trying to look after her sons.
Bill and Ted's Bogus Journey
Remember Bill and Ted? Pam had a role in the 1991 movie; Bill and Ted's Bogus Journey, the second movie in the Bill and Ted franchise. The actress played Ms. Wardroe, who picked the bands to participate in The Battle of The Bands event. In her scene, Pam had big curly red hair and an all-black leather outfit while explaining to Alex Winter (Bill) and Keanu Reeves (Ted) how bad they were at being rockstars.
Something Wicked This Way Comes
Something Wicked This Way Comes is a horror film directed by Jack Clayton. It was released in 1983 and has become a classic in the genre. However, it comes at a high price. Pam Grier plays the Dust Witch, an assistant to the evil Mr. Dark, known as his most potent and dangerous freak. It follows Mr. Dark, who can grant the people of Green Town, Illinois, their wishes.
The Arena
Another film Pam Grier was in that you might not know about is The Arena. It was a gladiator film movie released in 1974 about warrior women who have to fight for their freedom from a slave owner. Pam played Mamawi alongside Margaret Markov as Bodicia, whose characters had to work together to escape their predicament. It was one of Pam Grier's early movies.
Larry Crowne
Tom Hank's Larry Crowne is another movie you might have missed the great actress in. The romance comedy follows Tom Hanks(Larry) as a recently unemployed man who enrolls in a community college to improve his education. There he meets an instructor Mercedes played by the veteran, Julia Roberts. Pam Grier acts as Frances, an English teacher, colleague, and close friend to Mercedes. She advises and comforts Julia's character throughout her romance with Larry. The film was famous for being produced, directed, and co-written by Tom Hanks, who was also the star.
The Man With the Iron Fists
The 2012 epic Kung Fu movie, The Man With the Iron Fists, featured many notable actors, including RZA, co-founder of the Wu-Tang Clan. He got the idea of the film during a plane ride. Pam Grier plays the Blacksmith's mother called Jane in the movie. RZA portrayed Blacksmith, alongside Russell Crowe, Lucy Liu, Dave Bautista, and Jamie Chung.
Bad Grandmothers
Pam Grier went back to her action roots in the comedy movie, Bad Grandmothers as Coralee. She was part of a group of grandmothers who committed a crime and had to cover it up. It was an independent film directed by Srikant Cherapa that didn't make much money, so you might not have seen Pam Grier in it. It was filmed in 2015 but had to be released in 2017 because they had to crowdfund for post-production expenses. The cast featured great actors like Judge Reinhold as Harry, Florence Henderson as Mimi, and Randall Batinkoff as Detective Randall.
Holy Smoke
Pam Grier was in the 2000's drama Holy Smoke, directed by Jane Campion. The film stars Kate Winslet as Ruth, a young Australian girl who finds herself caught up in a cult in India. Her parents enlist an American exit counselor P.J Waters played by Harvey Keitel, to 'deprogram' her. Unknowingly P.J. ends up falling in love with Ruth. Pam comes into the movie as P.J.'s assistant, Carol from the U.S., who traveled to find him since he screened all her calls. Pam's character becomes the mother of P.J.'s twin sons by the end of the movie.
Bones
In 2001, Snoop Dogg had a promising acting career that he even starred in a Bones horror movie. The rapper played Jimmy Bones, a protector in the hood who comes back to life after being murdered 20 years prior. Pam stars alongside Snoop as his girlfriend, Pearl. At first, she has an afro, but later in the movie appears as a dreadlocked psychic shop owner. Pam praised Snoop's acting in an interview and even admitted that the rapper is a good kisser.
Veteran Pam Grier has played over 100 roles in film and television during her lengthy career as an actress. These are just a few movies you might not have seen her in action.
Tell us what's wrong with this post? How could we improve it? :)
Let us improve this post!