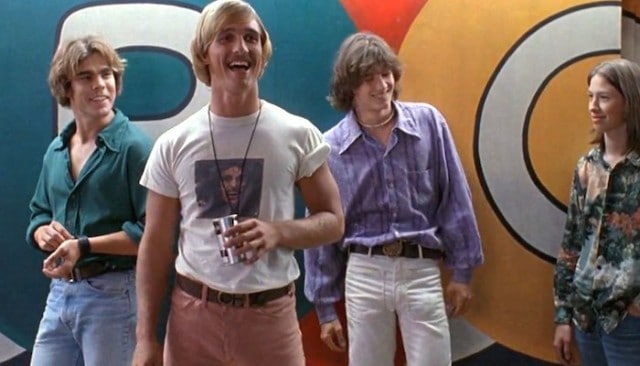 This was an extremely hard list to compile mainly because the topic is so broad. However, I want to make it very clear what this article is about. It's not about High School movies. It's about movies that focus on life in high school. Know what I mean?
There are tons of high school movies out there but I don't think too many do a great job of capturing what high school life is truly like. So I decided to span generations and try to gather what I thought were great representatives of the culture.
Here are my picks for the 10 best movies about high school…..
Dazed and Confused
If had to choose a number one I would probably pick this movie. Richard Linklater does an excellent job of directing this movie and capturing the lives of high school students in rural Texas in the 70s. The soundtrack absolutely rules and the characters are incredible. He truly covers the entire gamut here. You've got the jocks, popular kids, stoners, up and coming freshmen, and just about everything you could ask for. And the amount of future stars in this movie is insane. Definitely one of my all-time favorite movies let alone just high school movies. Talk about nostalgia. This film's got it times ten.
Fast Times at Ridgemont High
This was one of the first movies that truly explored sex in high school. Cameron Crowe writes a bold movie here and Amy Heckerling had the balls to direct it. Naturally it was a smash hit and probably changed the high school movie from that point on.
https://www.youtube.com/watch?v=CTmpKgocyYg
Heathers
Of all the movies on this list I'd say that Heathers is the weirdest. However it was a pretty bold movie when you think about it. It explored high school suicides and the pressures of school in a way no movie ever had. It may not have won at the box office but it was definitely a great movie.
https://www.youtube.com/watch?v=R-P6p86px6U
Ferris Bueller's Day Off
There's no way I was leaving this one off. If you haven't seen this movie then you have no business reading this article.
Napoleon Dynamite
I might get reamed for this one but think about it. How often do we explore the geeky side of high school in films? Sure we have your geeky characters and what not but the weirdos actually make up a pretty large majority of students, something that's overlooked in movies. Napoleon Dynamite absolutely kills it with this exploration. And at this point in time there's not one person who isn't familiar with his incredible dance scene at the end.
The Breakfast Club
Other than Dazed and Confused this one ranks pretty high up on my list. What differentiates this movie is that all facets of high school are pretty much represented here: The geeks, athletes, criminals, princesses, and basket cases.
https://www.youtube.com/watch?v=wzWmxjYNfz4
Grease
I can only assume this is how high school life was in the 60s? One giant musical? Other than all the characters looking like they were in their 30s, this movie has to be on this list.
Election
Totally underrated movie and totally awesome if you ask me. They take a funny crack at teachers being attracted to students as well as attempt to classify groups, rivalries, subcultures, etc etc.
American Pie
You didn't think I'd leave this off did you? Probably the funniest movie of all these by far.
Can't Buy Me Love
All you current high school kids out there have to see this movie. I know it was made in 1987 but trust me, you'll love it.

Honorable Mention: Can't Hardly Wait, Lucas, Cooley High, Pretty in Pink, Clueless, Superbad, Pump up the Volume, To Sir with Love, She's All That
Tell us what's wrong with this post? How could we improve it? :)
Let us improve this post!