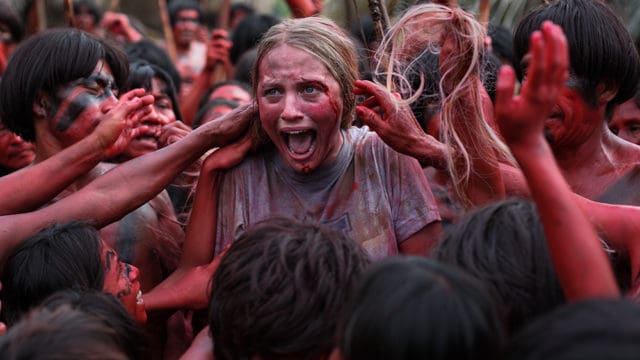 The Green Inferno is definitely in the tradition of Eli Roth. If he's directing then you know it's going to be something bloody and incredibly messed up. When a bunch of people intent on saving the rainforest make their way to Peru their plane crashes at one point in the wilderness and lo and behold a group of red-painted villagers comes out to inspect the wreck. What the survivors didn't count on was that hospitality in the jungle isn't generally extended to those that are considered outsiders. In fact, it would seem as though fate served them up as a special bonus to the villagers as they soon realize just what their captors mean to do to them.
Just because you want to save the rainforest doesn't mean its inhabitants want to save you.
10. Roth had to show a group of villagers a movie to show what he wanted from them, and they agreed.
They had no idea what a movie was and had to be shown. It's also claimed that they'd never been filmed before.
9. The villagers thought Cannibal Holocaust was a movie.
Considering that the practice of cannibalism is pretty much gone they might have thought this was high comedy.
8. The tribe offered a two-year old child as a thank you for allowing them to be in the film.
Roth politely declined since obviously this would be very immoral, but the thought of saying thank you was nice.
7. Some of the villagers were part of the crew.
Almost the whole village that Roth went to signed up to be in the movie or at least a part of the crew.
6. Christian missionaries thought the props were real at first.
When the missionaries arrived in their boats via the river they thought that the set was real and that people were glorifying in the carnage. So they sang louder.
5. Roth managed to release the original film he shot to the theaters.
It's kind of surprising that nothing had to be reshot or even omitted before the film was released. But it did manage to terrify people a little more because of this.
4. Roth had to get actors that would consent to being immunized for the duration of the film.
There are so many different things in the jungle that can kill on contact that they had to be extremely careful. They also had to be checked for parasites upon the film's completion.
3. There are no more cannibalistic tribes in the Amazon any longer.
This is up for debate since cannibalism has been seen as a means of population control and not always a perverse thing such as the movies show. But it would appear that in the Amazon such a thing is no longer practiced as it once was.
2. One of the cast members had to be hospitalized because of bug bites.
Everyone suffered from them at one point but one individual had to be sent to receive medical treatment due to an adverse reaction.
1. Stephen King actually praised this movie.
Coming from the king of horror that is high praise indeed.
King doesn't just hand out compliments that often, so Roth did something right.