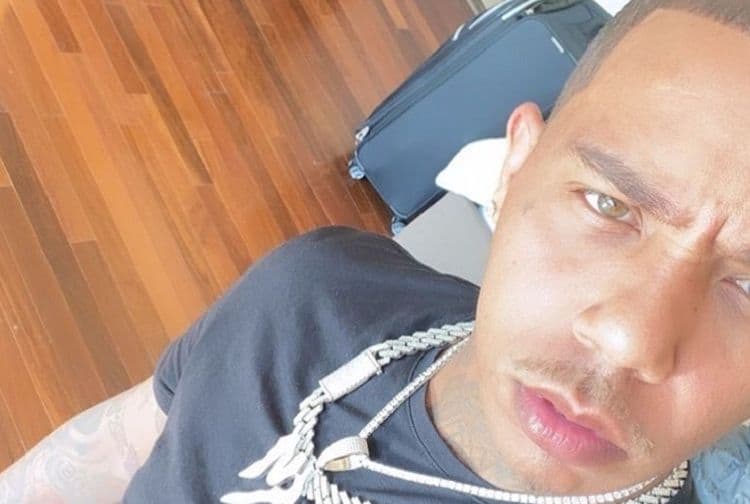 American rapper Yung Berg has been in the news yet again for another controversy. Throughout his entire career that spans nearly two decades, Young Berg has never really gone without getting attached to some kind of negative publicity or another. Recently, he has been in the news for some of the comments he's been making regarding another artist's legal troubles with her label. Whether that has anything to do with Yung Berg or not is really irrelevant at this point. However, it does make us think about the rapper again. If you've forgotten who Yung Berg was or don't really know who he is, here are 10 things about him to get you acquainted.
1. He's no longer Yung Berg
It's not unusual for artists to change their names throughout their career. P. Diddy did it. Prince did it. Mos Def did it too. Sometimes, artists want to change the trajectory of their careers, so they change their name accordingly. Yung Berg did just that. He has now rebranded himself as Hitmaka because he apparently does what his name says–he makes hits as a producer.
2. He's a music executive
Yung Berg has really gone through it in his career. He started off with some of the best in the industry, and he has given us some good music too. There's a reason why Yung Berg is advising all young artists out there to be prepared legally when signing contracts. He's been there himself, and he now works the back stages of music. He's currently the Vice President of A&R for Atlantic Records, and he knows exactly what could happen if an artist signs something he or she don't quite understand.
3. He's from Miami
Yung Berg was born Christian Ward on September 9, 1985 in Miami, Florida. He has definitely come far from where he started, and it seems as if he's not really stopping on his tracks any time soon. He's been active in the industry since 2001, and he continues to make contributions to music today through his work as a producer. The 34-year old artist was only 16 years old when he first started–an impressive feat for anyone, let alone for someone trying to make it in music.
4. He debuted his first single in 2007
Although he started his act in 2001, Yung Berg didn't release his first single until 2007. Sometimes that's just the nature of the game. That single was "Sexy Love" featuring R&B singer Junior. He released his first album to much anticipation in 2008, and fans were glad to hear that the album featured some of the best artists of the time including Eve, Trey Songz, and more.
5. He was on a soundtrack
This was actually Yung Berg's first true introduction to the world. In 2001, he was signed on to DMX's Bloodline Records, which helped the young star get on the soundtrack of the 2001 Steven Seagal hit, Exit Wounds. The film also featured DMX as one of the cast members. At the time, Yung Berg was going by the moniker Iceberg, and the song he wrote for the film was called "Dog 4 Life." There was a pause in his career after this, but he continued strong when he came back a couple of years later.
6. He went to military school
Before Yung Berg could even really flourish in DMX's record label, his parents pulled him out of the contract only to send him far, far away. Yung Berg was sent to Montana to attend military boarding school. At this point in his life, Yung Berg was still a teenager, so his parents had total control. There really are only a couple of reasons why parents send their kids to military school. For Yung Berg, it's likely that his parents sent him away to possibly get him out of trouble. He finished boarding school in 2003, and he got back into making music right away.
7. He was a hype man
Nobody could ask for a better hype man than Yung Berg. He had a natural kind of energy that just bounced off him on stage. When he was 20 years old in 2005, Yung Berg found an opportunity of a lifetime. He became the hype man for a Chicago-based rapper, Shawnna, who was one-sixth of the six-member rap crew, Disturbing tha Peace. Apart from getting stage experience, he also got to hone his songwriting skills during times when he wasn't performing on stage.
8. He had his own record label
This was something that Yung Berg was very proud and oftentimes boastful of. At the young age of 22 years, Yung Berg was able to build up his own record label, Yung Boss. Essentially, having his own record label meant that Yung Berg had total creative control of his music. We're not entirely sure what happened to Yung Boss; but given that Yung Berg is with Atlantic now, we can imagine that Yung Boss probably fell apart.
9. He's an R&B artist at heart
If you listen to Yung Berg's first album, you'll hear all the R&B influences throughout his music. He surprised many with that album given the amount of R&B collaborations it had–and good ones too. According to Yung Berg, he'll always be an R&B artist at heart even though rap is his game. It seems as if he might've been a little ahead of his time, but it seems as if Yung Berg would've fit perfectly in today's rap scene–everyone seems to be an R&B artist at heart these days.
10. He was on television
Yung Berg was part of the first season of Love and Hip Hop: Hollywood in 2014. The show followed the premise of the original, and it featured Yung Berg alongside Hazel E. The show basically followed the rapper as he navigated his personal life, but controversy always ensues in his. Yung Berg was fired from the show eventually for allegedly assaulting Hazel E. and his girlfriend at the time.
Tell us what's wrong with this post? How could we improve it? :)
Let us improve this post!