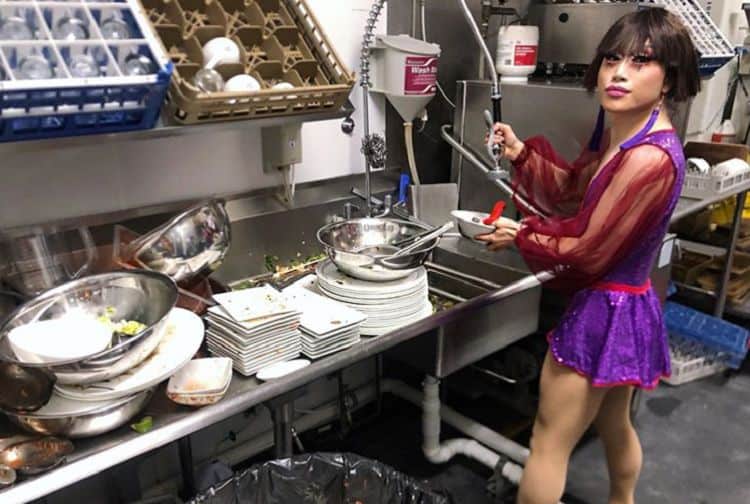 Since sashaying her way to fame on RuPaul's Drag Race in 2018, Yuhua Hamasaki's career just seems to go from strength to strength. Seamstress, dancer, comedian, and all-round born entertainer, she's one of the most successful drag queens in America today. Find out more with these ten quickfire facts.
1. She learned English through TV
Hamasaki was born in Guangdong, China but moved to the US with her family when she was 7 years old. At the time, she knew Toisanese, Cantonese, and Mandarin, but barely a scrap of English. Enter TV. After settling in New York, Hamasaki started watching every American TV show she could, as well as listening to English music and reading just about anything she could lay her hands on. Her efforts clearly paid off, and today, English is the only language she's fluent in, her Chinese skills having dropped off some while ago.
2. She's performed with Katy Perry
Drag Race may have been the show to catapult Hamasaki to new heights of celebrity, but she wasn't exactly doing badly before it. Prior to being announced as one of the 14 contestants on the tenth season of RuPaul's Drag Race in 2018, one of Hamasaki's biggest claims to fame was as one of the numerous drag queens to feature on Katy Perry's performance of "Swish Swish" on Saturday Night Live in May 2017.
3. She idolizes Laverne Cox
If there's one person Hamasaki would willingly trade places with, it's her idol, Laverne Cox. "She is such a pioneer for the community," Hamasaki told Get Out Mag. "She is the first trans woman of everything, and she is representing the LGBT community very well! She is intelligent, ambitious, motivated, kind, talented and such a kind heart." With that level of hero-worship, you can only imagine Hamasaki's reaction when she learned she'd be working with Cox on the music video for Mila Jam's 2018 track, "Bruised".
4. She's incorporating her culture into her drag
When Hamasaki first moved from China to the US, the culture shock, understandably enough, hit her hard. "I was under the impression that any culture aside from Anglo-Saxon culture was looked down upon," she later recalled to Seventeen. "I was ashamed of being Chinese, I was ashamed of speaking my language, and I was ashamed of eating Chinese food in front of my friends." Fast forward to today, and that shame has well and truly gone. Proud to fly the flag for her birth country, Hamasaki is keen to show the world there's more to beauty than blue eyes and blonde hair, and happily incorporates elements of her culture into her drag wherever she can.
5. She had a difficult childhood
Growing up, Hamasaki always felt like an outsider, a situation that made her home life, particularly after she entered her teens, difficult. Unable to express herself and her newfound interest in boys, clothes, and makeup to her parents, she became increasingly distanced from her family. "I ended up going out to the gay bars and clubs a lot when I was 16 with a fake ID because I didn't know where else to find people that were like me that were able to share things in common," she told Get Out Mag. "Since I wasn't able to find it at home and in school, I decided to reach out to the nightlife world."
6. Her birth name is Yuhua Ou
When Hamasaki first getting into drag (which, believe it or not, was when she was just 15 years old), she didn't have a stage name. For a while, she just went by her birth name of Yuhua, but, once she started getting into it more seriously, she decided the time was ripe for a full-blown drag name. After deciding she wanted something Asian, something fierce, and something that sounded like it could very possibly kill you, she settled on "Hamasaki" after the Madonna-Esque Japanese pop singer, Ayumi Hamasaki.
7. She credits her success to a strong work ethic
If you want the kind of success Hamasaki's achieved, the number 1 priority is not to be lazy. A strong work ethic is how she's managed to get to where she is today, and it's a strong work ethic that she encourages in her fans. "Don't be lazy, don't be late, don't have a nasty attitude, and always love what you do because there will be ups and downs," she told Werrk. "If you love what you do, your passion will help you overcome the lows. It is so easy to be jaded, but my thing is always to be positive and if things go wrong, just laugh it off and think of it as another hot mess story to tell your friends."
8. She's a YouTube sensation
Hamasaki may have been eliminated from RuPaul's Drag Race in the third episode, but her association with the show didn't end there. 'Bootleg Fashion Photo RuView', Hamasaki's self-published YouTube take on the WOW Presents internet series 'Fashion Photo RuView', sent her career soaring to new heights. Since renamed 'Bootleg Opinions', the series showcases Hamasaki's quick wit and bubbly personality as she and her various guests offer up their opinion on the runway looks from the RuPaul's Drag Race mainstage.
9. She's been named Time Out NY Magazine's favorite queen
Hamasaki's list of accolades makes for some long reading. As well as claiming the title of Time Out NY Magazine's favorite queen and "Queen of the Year", she's also been crowned Miss Asia NYC and Miss Gay South Pacific. Former titles, meanwhile, include Miss Fire Island, Miss Stonewall, and Miss Long Island Entertainer of the Year.
10. She made her TV debut in Big Ang
In 2012, Hamasaki made her TV debut in Big Ang, a bio of reality TV personality Angela Joyce "Big Ang" Raiola. Since then, she's showed off her acting talents in several other features, including The Carrie Diaries (2013), Blue Bloods (2014), and The Mysteries of Laura (2015).
Tell us what's wrong with this post? How could we improve it? :)
Let us improve this post!