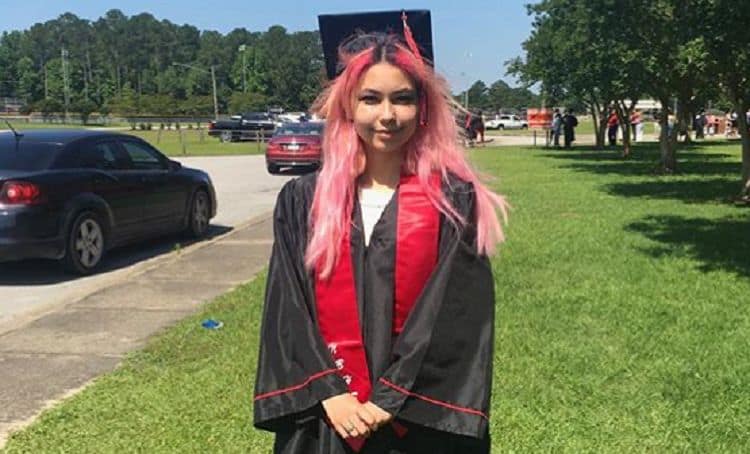 To lots of people, shark attacks seem like something that only happen in scary movies, but for Paige Winter that horror became a reality in the summer of 2019 when she was brutally attacked by a shark off the coast of North Carolina. Paige's family witnessed the attack from the short and her father quickly jumped in to come to her defense. Although her father was able to help save her life, Paige didn't walk away injury free. Unfortunately, she lost her left leg and two fingers. Paige has had to make a lot of adjustments over the last year, but she has managed to maintain a positive attitude through it all. Keep reading for 10 things you didn't know about Paige Winter.
1. She Didn't See The Shark Before It Attacked Her
In real life, shark attacks don't always start after a shark has been circling around you for minutes. Instead, they can be much more discreet which is exactly what happened to Paige. Prior to being attacked, she had no idea there was even a shark nearby. When Paige was in the water, she simply stepped on something that she initially thought was her dad playing a prank on her. Moments later the shark grabbed her between its teeth.
2. She Would Want Zendaya To Play Her In A Movie
A survival story like Paige's is definitely the type of thing that movies get made about. When and if that time comes, Paige already knows exactly who she would want to play her: Zendaya. If you know anything about Zendaya's career so far, it's easy to see why she would be Paige's top choice.
3. She's A TikToker
Since the attack, Paige has become somewhat of a social media celebrity. She has over 34,00 followers on Instagram and she's also active on TikTok. At the moment she has almost 129,000 followers on TikTok and her videos her more than 3 million likes. Like other TikTokers her age, her videos consist of lip syncing and popular trends.
4. She's A Strong Supporter Of The Black Lives Matter Movement
Despite being just 17-years-old, Paige already has a strong sense of who she is and she isn't afraid to stand up for what she believes in. She is a strong supporter of the Black Lives Matter movement and many other causes that promote social justice and equality.
5. She Has A Boyfriend
Who doesn't love a good young love story? Paige has been in a happy relationship with her boyfriend, Cameron, for about a year. They had just started dating a couple of months before the shark attack and he proved to be a strong support system for her during her recovery process.
6. A Belt Helped Save Her Life
When Paige's father carried her from the water, he thought that his daughter had just a few minutes to live. A man named Roger happened to witness the attack and offered Paige's father a belt to use as a tourniquet to help stop the bleeding. Roger's belt played a very big role in saving Paige's life. Paige and Roger still maintain a relationship.
7. She Wants To Have A Career In Cosmetology
Paige recently graduated from college and she's already making plans for the future. She loves to experiment with her hair and in August 2020, she tweeted that she will be attending cosmetology school. One day she hopes to own a full service beauty business where clients can get several things done including hair and nails.
8. She's An Ariana Grande Fan
Ariana Grande is one of the biggest pop stars in the entire world and her music has touched countless people. Paige is proud to be one of those people and is a huge fan of Ariana in her music. In 2019, Paige even tweeted that the only things she cares about are the environment and Ariana Grande.
9. She Still Thinks Sharks Are Cool
Even people who have never seen a shark in real life are terrified of them. Just one scary movie is usually enough to do the trick. But even after being bitten Paige still doesn't hold any ill will towards sharks. In an interview, she said that sharks are "good people" and she still considers them cool.
10. She Hopes To Inspire Others
Losing a leg and two fingers has definitely been a life altering experience for Paige, but she refuses to see it as only a bad thing. Instead, she hopes that something good can come out of her story and she hopes that what she's gone through can help other people overcome their challenges.