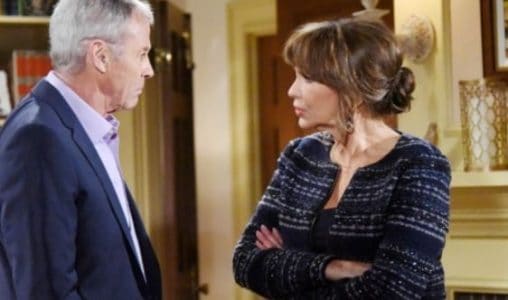 Young and the Restless spoilers indicate there's a lot more going on around here than anyone realized. Jack got drunk. It happens. Everyone does it once or twice, and they do it to the point they can't get over themselves after the night ends. Jacks is currently in that position when he realizes he got drunk and spent the night with Gloria. He won't even believe it happened until she shows him the proof, and he's not in a good place after learning it really did happen. He's going to have some serious issues on his mind now, and we don't know how he will deal with them.
At the same time, it turns out that Jack is also very close to closing a big deal with Lauren. He's going to say something about it to Jill, who is going to lose her mind when she finds out he is doing this without her input or her help. Will she blow up, or will she quietly handled her issues and then take it upon herself to see what she can do behind the scenes? We wouldn't put it past her to try and ruin this deal so she can come up with something far better on her own.
Lauren isn't happy to see that Jill is upset, and she's going to tell her precisely how she feels and why she feels this way. She's certain she's saving things, and she doesn't want Jill opening her mouth and putting her business out in the public to ruin anything. It looks like these two are about to enter into a war of their own, and it's not going to be pretty with two big personalities angry with one another. We see these two working very hard to take one another down as often as possible in the upcoming story lines. In other news, Devon is going to congratulate Lily when she resigns from her job, and Cane will be there to witness the entire thing. Of course we know he's not happy about it, and neither of them are actually happy that she's leaving. What will happen to this story line?