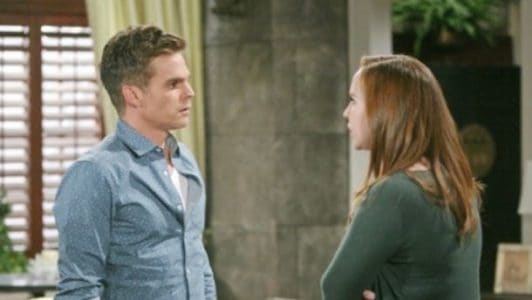 Young and the Restless spoilers tell us that Chloe is a liar. Of course, we already know she's a liar. She's the one who worked with Victor to frame Adam for a crime he did not commit, and then kill the young man as per his father's wishes. Except that we have a feeling she did not exactly kill him the way she said she did. We have reason to believe she framed the situation to appear as though she killed Adam, but that she actually took him and is holding him captive elsewhere. When Chelsea found Adam's wedding ring, it made her look super guilty. She fled prior to her own wedding and demanded that he help her escape since she has evidence that will put them both away.
When Victor demands to know what it is she is talking about, she has to make a quick decision. If he knows she has Adam's wedding ring, it will tell him she was close enough to him to keep him alive. It will suggest to Victor that she didn't kill Adam, and that would be a mistake. So, she's going to lie about the evidence and tell Victor Chelsea found a diary that he knows exists. This is her first lie to him in a while, and he might believe it. She then tells her that she will tell everyone what he did, so he goes forth with the arrangements to fly her out of the city.
Of course, things aren't always as they seem. Victor helps Chloe escape; and Chelsea is going to soften. Chloe was her best friend and even though she is responsible for killing the man she loves, she's going to beg her friend to come back on the news so she can care for her daughter, Bella. She's going to want her friend to come home and get the help she needs, but we suspect this has more to do with wanting her to pay for what she did to Adam. Will Chloe see the news and come home thinking Chelsea will help her or will she see right through this?