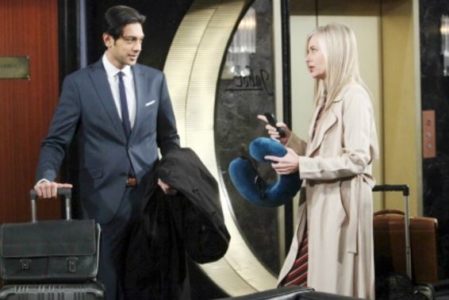 Young and the Restless fans know that things are going to change at the drop of a hat on this show, and they always do. Now that everyone is all up in arms about Adam's death and Chloe's part in it, we have to wonder what is going to happen to those left behind? We know that Kevin and Billy both received news this week about their relationship with Bella. They are both excited to have finally been given the answers they've been looking for. For Billy, it's the news he is not the father of the little girl. He is relieved, and he seems happy about it. He is not someone who really wanted to have another baby with Chloe after their first daughter was killed, but he is also someone who has a life to live.
He seems happy to not be Bella's father, and that Kevin is, but we think he might be a little sad about it. He's got a little girl he didn't consent to create, but she's sweet and she looks like his dead daughter. He might have some soft spots for her in his heart, and he definitely did what was needed of him in the past. He's been able to change things for his own life, and we hope he can continue to do that for her, too. Now that he's not the father of this little girl, will he see her again? Will she miss him?
Will he find out later he is the father of Bella, because we think that Chloe is lying to give her the best father to raise her? We think she knows that Billy wasn't all that happy to be her father, so he didn't want to do it. She knows Kevin wants it more than anything, and she needed someone to care for the little girl while she's away. Will Billy grow to wish he was her father, and how will this turn out as the little girl grows up and more and more of Chloe's secrets are revealed as she continues to be absent from the show? Anything can happen at any time around here.