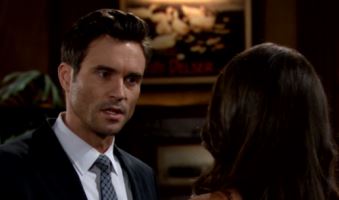 Young and the Restless fans can't get over how poorly Michael and Cane seem to get along in terms of their working relationship. Michael is working so hard to defend Cane and his situation right now, but Cane is making it all but impossible to do his job. He is doing everything his attorney told him not to do, and he doesn't seem to think there is anything wrong with that. He is in the mindset he can do whatever he wants and there's no issue with that, but there is an issue.
Cane doesn't listen well. He went out of his way to talk to Juliet despite his attorney telling him to do no such thing. He cannot have him running around talking to the woman who is accusing him of being a harasser, but he did it anyway. He's now in trouble with everyone, and things are not going his way. What is going to happen now?
Lily is so confused. She's not sure why Hilary is allowed to get on the air and talk about a lawsuit like the one affecting her husband. She calls it lies and slander, but the paperwork is public and everyone knows it's not a lie or slander. Hilary is very careful to point out he's only been accused and not that he did it, but Lily thinks this is a terrible thing to do, and she's not a fan of it happening in her life to her husband.