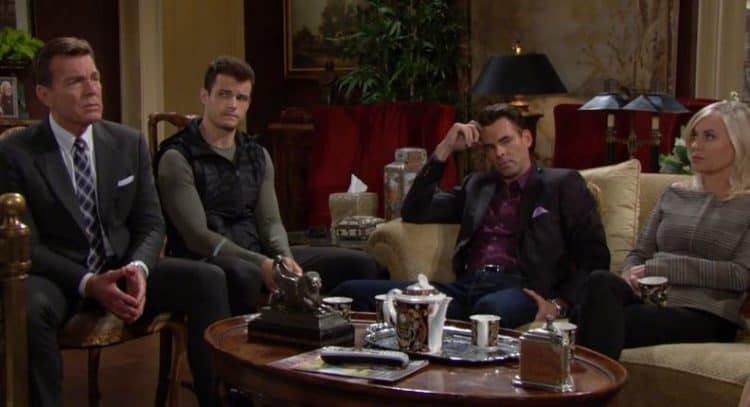 Young and the Restless fans are not at all surprised to see Sharon not giving Nick the time of day. He wants her back and he wants things to work. He also wants her to stop spending time with Rey, and she's completely uninterested in all of that. She's not looking to make her own life more demanding than it already is, and she's certainly not going to listen to this cheating man tell her who she can and cannot spend time with. She figures that his issues with Rey are just his issues of jealousy that she's spending so much time with another man. She's not giving him up and their friendship will continue to grow. And we totally think a lot more than friendship is at stake here. She won't find out until that's all too late, though. But, that is always how it happens, and we just don't feel surprised by that in the least.
Billy has opened up to Victoria about a few things that are going on in his life, and she was the perfect person to lend a listening ear. She was there for him. She supported him, and she gave him what he needed. He's unhappy with the turn of events, and he's still pretty much convinced that the things he did are not all that serious. Sure, he made some mistakes, but he feels the one's Phyllis made are far more than the ones he made. Finally, we saw that Abby found some curiosity of her own in a few things, and that was something she wasn't able to get her situation to handle. She's got more on her plate than she can handle, and she's been able to get a few things done in the meantime. Will this get her in trouble? Probably so.
What's Happening on Young and the Restless
Then and now ❤️ What do you think of the Abbott family flashbacks on #YR? pic.twitter.com/ZXF2iRXeK5

— Young and Restless (@YandR_CBS) October 25, 2018
We love every second of this, and that comes in a moment when we are all feeling a little emotional about what is happening between the Abbotts and Ashley's final goodbye. We love this, and we do want them to spend a little more time working on their situation. Is that possible?
What's Next on Young and the Restless
Will a secret document destroy the Abbott's empire or devastate their family? Find out this week on #YR! pic.twitter.com/7vhOKWCfH4

— Young and Restless (@YandR_CBS) October 21, 2018
Friday is going to be a good day for some, and it's going to be a hard day for others. We think there is a good chance that things will work out for the best for some people, but there is also a good chance that some people might not be able to handle what is coming. That is the fact that Ashley has an announcement to make, and we are fairly certain that whatever she has to say has a lot to do with her departure. She's done with the show as of now, and we think this is her big goodbye. She won't be back, and we cannot wait to hear what has her leaving Genoa City for good. Well, let's be honest here. We want, more than anything else, to find out if what has her leaving Genoa City right now leaves the door open for a big return for her sometime in the near future. Is it possible? Can she do it? Is there any chance she can do that?
Also, we do hear that this is not her last day. She won't officially say her final goodbye until Monday, but then she's gone. So this is the second to last day you will see her around here, and that means it's bound to be an emotional and hard day for many. She's been around so long and so many times, and she's been someone who has made her times on the show the best. We will all miss her, and we wish her the very best.
Stay tuned for more Young and the Restless and be sure to check out TVOvermind daily for the latest Young and the Restless spoilers, news, and updates.