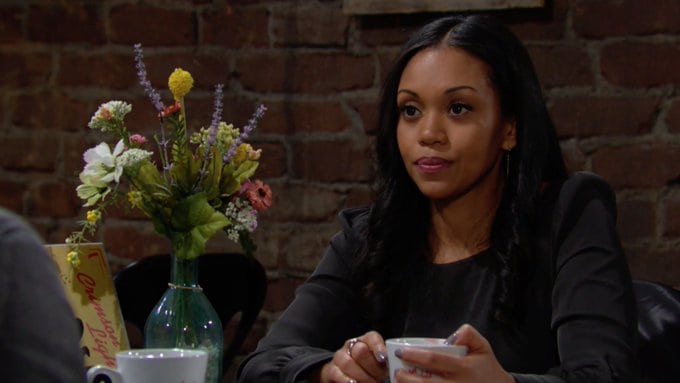 Young and the Restless fans know Summer is impatient and unhappy when things don't go her way. She is a lot like her mother in that aspect of her life, but she's got so much more to deal with than that. She's not getting things done in her life beause she's upset with Theo — but she's not the only one, either. She's made sure that he knows that she's not in a good place with him and that she is not happy, but she's also in a place where there is so very little that anyone can do right now. We cannot figure out how to make this entire situation seem like a good one, but we do know that she's got him on the notice situation that he needs, and maybe that will put him in a place where he realizes he needs to change.
Jack has learned some news that is not expected. He's been going through so much lately, and he's not in a good place as a result. He's been in a situation that is going to change more than a few things in his life, but he's also been dealing with things his own way. He's been handling this, but this latest bout of news is not something he's been happy to handle. For now, though, he's handling it. Jilly is furious. Someone is funneling money and making big problems for her at work, and she's not happy about it. She's got her mind made up, her situation set, and she's not dealing with this another day. She's done, she's over it, and she's got to figure this out. She's scheduled a meeting that might just change the game, and we cannot wait to see what she's up to with this.
What's Happening on Young and the Restless
Today on #YR, Amanda opens up to Nate about her past, and Phyllis covers her tracks. WATCH FULL EPISODE: https://t.co/9fbZ1LzwBc pic.twitter.com/M79WwgUlpc

— Young and Restless (@YandR_CBS) March 18, 2020
These things keep happening.
What's Next on Young and the Restless
Mariah fights for her relationship this week on #YR! pic.twitter.com/fw8KIyb1LJ

— Young and Restless (@YandR_CBS) March 15, 2020
Adam is going to do something he's never thought to do. He's going to look into the past of his father. He's going to look into a few things that he is not sure are accurate or right in any capacity. He's going to do some digging, but we don't think that his digging is going to go unnoticed by his father. His father is a man who is an unhappy kind of man. He does things that don't always make sense. He does things that protect him but they don't protect anyone else. He does what he needs to do for himself, but he doesn't worry so much about anyone else. That's his MO and he's not changing that. Whatever Adam has planned is not going to work for him at all.
Then there is what is going on with Victoria, whose mother is telling her to be careful and not to get too far ahead of herself. For one, her health is not back on track yet. She's still a mess, and things are still not working out for them, but there is so much we can see getting better. They have a long road ahead of them, but we think that working together as a team is going to get them on the right track. We aren't sure, but we hope that things work for them. For now, we just watch as this goes on and as Nick has some questions for Chelsea. There is so much at stake here, and she's not happy about what is being asked.
Stay tuned for more Young and the Restless and be sure to check out TVOvermind daily for the latest Young and the Restless spoilers, news, and updates.