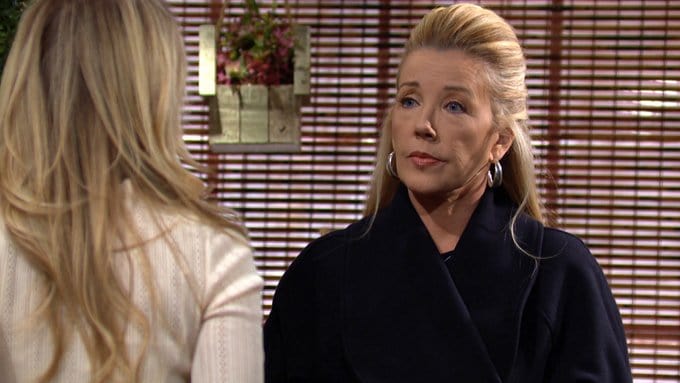 Young and the Restless fans just don't feel surprise. We are not surprised that there is a moment in which Adam is not going to find that someone is questioning him and his life. What surprises us is that every single time he does anything in his life and people question it, he is not sure why. He seems genuinely confused that people might not believe him when he has something to say or do, especially when it appears to be something good rather than bad. So, right now as his friends and family are all questioning him and his life, we are shocked that he is shocked. Does he honestly believe that there is any chance that they shouldn't be questioning him when he's not done a thing in his life to make them trust anything he has to say? We are confused for him, but he's just a hot mess in all of this.
Chelsea, on the other hand, is looking to ignore that. She is not looking to the past. She's done that enough in her life. She is getting married to Adam. He is changed. He told her he is a changed man, and she chooses to believe him and to be there for him and to focus on nothing but their future. She is not going to allow the past to change her life ever again. She, too, is a new woman who is only looking to see what the future holds for her, how she can get that in her life, and what she can do to stop things from being a problem for her. She is good, and no one can stop that. Not even the people who are questioning her future husband and their life together. She's done with all that drama.
What's Happening on Young and the Restless
Ever wonder what it's like to stay at the Grand Phoenix? ✨ Here's an inside look at one of the suites! #YR pic.twitter.com/NxDbLz6UyG

— Young and Restless (@YandR_CBS) March 10, 2020
We love a behind-the-scenes peek.
What's Next on Young and the Restless
This week on #YR, Billy and Amanda explore their relationship while Adam fights for the Newman Enterprises CEO chair. Don't miss it! pic.twitter.com/G5V0glppL3

— Young and Restless (@YandR_CBS) March 8, 2020
Jill is a woman who can do a lot in her life, and that is true when it comes to her son. We know that she has a few things going on that he might not be familiar with in the moment, but that is not her problem. That is his problem, though. She's been worried about him for some time now, and we do not believe for even one second that she is going to give up on him no matter what happens or how this all goes down. She has a lot going on in her life, and she is about to make that clear to her son. He's going to find himself very surprised by her and what she has in store, but will this be a good surprise or a bad one? It depends on which side of things he is looking at, we suppose.
Then there is Nick. He and Phyllis are going to find one another in a situation that causes them to have a bit of an encounter, and we are not entirely convinced that any of this is going to be a good encounter. Will they have anything nice to say to one another, or will they find themselves in a situation in which they cannot keep their hands off of one another for once? Well, not for once. We know that is their general MO when they are together, but we can see if that's the case today. It might be, and we might be interested in seeing where this goes.
Stay tuned for more Young and the Restless and be sure to check out TVOvermind daily for the latest Young and the Restless spoilers, news, and updates.