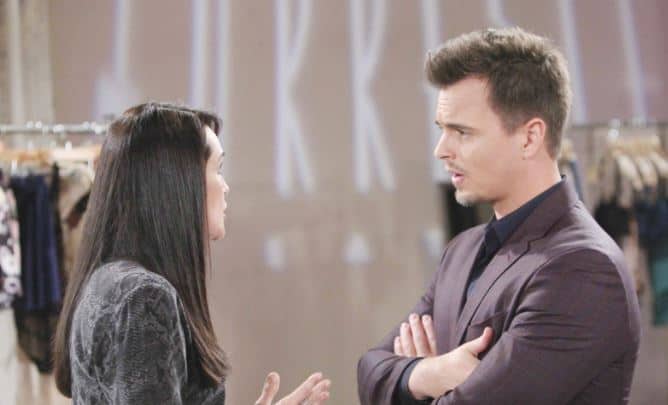 Young and the Restless fans aren't entirely sure why Jack cares so much that Nick slept with Phyllis, but he did feel the need to bring it up, so it might be more important to him than he is willing to let on. We think that he's beginning to form some feelings for her himself, and that's not exactly the best of news for him, for Billy, or for Nick. They keep this up since they are both alone and lonely, and we think that they are only making both of their lives more miserable, and Jack is now putting himself into the middle of things as he works on his own life. It's all very interesting and suspect at the same time. However, we do think that there is a good chance this can work in a way that's both interesting and fun.
On that note, we also know that Phyllis is going to show up at Nick's, and we all know why she did that. She's in the mood to feel powerful, and he's helping her with that by making her feel good about herself. And that's good news for her and Nick, but not the people they claim to love. But the most interesting thing that happened was when Arturo found a little something while at work. He found a watch, and it's obvious that it belongs to JT since it's inscribed with Mac's name. And this means that the park is now a crime scene and these women who hid JT's body there are in panic mode. They don't know what to do, how to do it, or who to turn to, but we don't think they can get away with this any longer. It's never good news for any of them.
What's Happening on the Young and the Restless
Happy FANsgiving! To give our thanks for all of your support, each week throughout the month of November we're giving a special prize to one lucky #YR fan. 🎉 For a chance to be "Employee of the Month" at Crimson Lights click here: https://t.co/XvNk94YTqF pic.twitter.com/ZgmsMnBX8d

— Young and Restless (@YandR_CBS) November 5, 2018
Fans! Now is your chance to change the world, to make it a better place, to change the way the world works, to be there for the people you love the most, to have the best time. It's your day to shine, so you need to make this one count. It's time for you to get on board with what is going on here. Try it, win it, and be it.
What's Next on the Young and the Restless
Arturo uncovers a clue today today on #YR. pic.twitter.com/3AG98DfpmG

— Young and Restless (@YandR_CBS) November 5, 2018
Cane has to make a decision that won't be easy for him. His wife is making him feel a little bit pressured, and there are so many things that he has to consider. Can he do this and still keep his family together and happy or is there more to this than anyone realizes? We can't really say for certain what might happen around here, but we do know that he has a choice to make and it will not be an easy one for him to make. His life is in turmoil right now, and he's living to make sense of that. It's not going to be very easy for him, but he has to make this decision for his family. And in addition to that, Jack is going to get some news that will disturb him completely.
We are just over here asking ourselves what kind of news is big or bad enough to make him stop in his tracks, but we all know it can be anything, anytime, anywhere, and any place. He's a man of means, but he's also a man who has choices to make, decisions to follow through with, and much more to consider in his life. But that's not all, either. He's a man who has to figure out what to do with himself in terms of what he wants from his future, and this might be something he needs to deal with on his own before he can make any additional choices. He's not going to be good with it.
Stay tuned for more Days of Our Lives and be sure to check out TVOvermind daily for the latest Days of Our Lives spoilers, news, and updates.