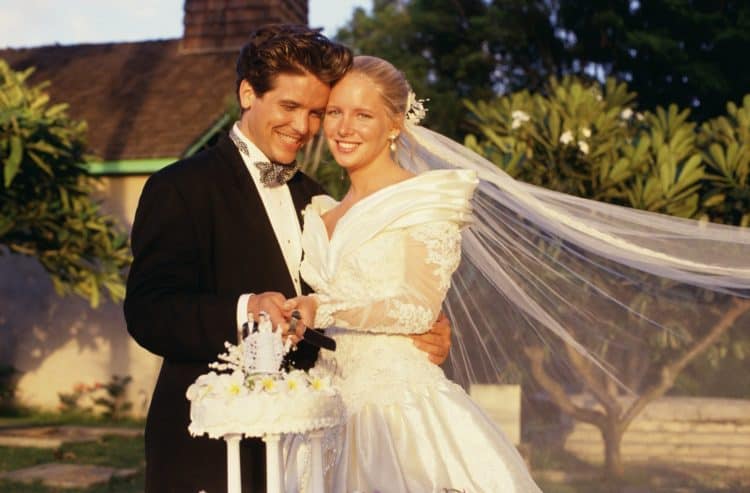 Young and the Restless fans are going all the way back to 1990 today. There's a good wedding with a lot going on, and it's a romantic one. This is a wedding that will take place on the shores of Hawaii, one of the most beautiful locations in the world. This is the wedding of Cricket and Danny. They are ready to take their relationship to another notch, and they are going to do it with their own desires in play. They aren't messing around, and we like that about them. They have a plan, they have a situation to deal with, and they are not going to sit back and let anything get in their way. Then, there's Nikki. She's going to keep a very big secret from Victor – she should know at this point in time that she can't do this and it's not a good idea – and that will be the show today. So, let's take a look back at Cricket and Danny.
They Were Longtime Lovers
Unlike many soap relationships in which a couple meets, falls in love, and gets married right away, this is a couple that did not do that. They were together for a million and one years – give or take a few – before they decided to get married. They were longtime partners who wanted to spend their time together, but he was a rock star and she wasn't. He was gone a lot. She was not. They were very good together when they were new and in love, but things didn't work out.
Their Marriage
Their marriage wasn't even a bad one, to be very honest. They had a good time together. They had a nice life for four years, but that's when things went south. Him being a rock star was hard on them. He had a lot of groupies and fans, and one in particular was a problem for him. It was Phyllis. His marriage to Cricket ended up being a mess because he slept with Phyllis, got her pregnant, and then Cricket could not handle that. It was a drunken mistake that he didn't even remember, but it left Cricket unsure that she could handle that.
The Truth
Of course, not all things that happen in Genoa City are what they seem. You see, this marriage did not work out. This marriage did not work out because Danny slept with Phyllis and got her pregnant at the same time. The problem, however, is that this wasn't the case. He did not sleep with her. The baby was not his baby, and things were not like they seemed. There was nothing about this that was all right in any capacity. You see, this is a problem so many people face, but it's not the truth for them. She drugged him, made it look like they slept together, she was already pregnant, and it was all a lie.
Not True Love
While this was a lovely wedding that did make everyone feel happy and good about life, it was also a wedding that didn't do much for everyone else in the meantime. This was a beautiful wedding, but it did not last. This is also a couple who did not get remarried at any point in their later lives. What this tells us is that they were certainly not true loves. They didn't get remarried, and so many other soap couples do just that. They get remarried when they find out that their divorces weren't what they seemed, and they move on with one another. She did not do that, though. She met Paul. They worked together often, they had a lot in common, and they really did fall for one another.
So, while Danny might have been Cricket's first marriage, he was not her true love. She married Paul two years after their divorced, divorced him five years later, and then remarried him almost seven years later. They are still, to this day, married and living their best lives. They are obviously the couple who was meant to be out of all of this, and we do appreciate that they are together and in love with one another in a way that not everyone can find.
Tell us what's wrong with this post? How could we improve it? :)
Let us improve this post!