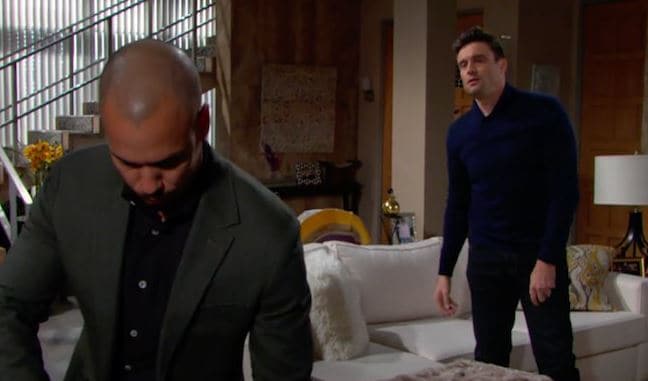 Young and the Restless fans are all kinds of excited about so many things. For one, we know that Abby is just as confused as ever, but we do hope that she can get over that and move on in her life. She's got a good thing with Arturo if she can get past his history and move on with him. He wants that, but she is still not certain she can go there or do that with him. But for now, they do have to focus on the things that they are dealing with outside of this. She's got a lot in her own life to deal with, such as all the women in her life acting strange, her mother leaving, and things not going as they should be going in her mind. And he's got a lot happening too, and that's not all. We also know that Kyle is looking out for himself. He wants Lola, but Summer is doing everything she can to make sure that he would rather have her, instead.
And that's ugly. Devon's got another sister, Ana, and she's in town. And that might not go well for him considering all the changes he's been making in his life lately. He's certainly not handling his emotions and his time away from his wife very well. It's been some time since her death, and he is not doing a good job of handling that and getting over things as he should be, and that's not something that he will handle anyone pointing out to him. He's not a good person when it comes to listening to others, and this is not going to be an exception to his rule. He will not hear it, he will not want to hear it, and hew ill back down in other ways.
What's Happening on Young and the Restless
Ana Hamilton is on her way to Genoa City! Join us in welcoming @lorensharice to the #YR family and make sure to tune in to her debut episode TOMORROW. 💫 pic.twitter.com/7hTbaBT0j1

— Young and Restless (@YandR_CBS) November 27, 2018
We may be worried about Devon on the show, but we are not worried about him right now. He's good off the camera, and we appreciate seeing how well he's doing outside of what is going on in his life. This makes us happy, and we always enjoy welcoming a new face to the show.
What's Next on the Young and the Restless
Boundaries will be set and boundaries will be crossed. ❌ PLUS, will Devon's behavior spiral out of control? Find out this week on #YR. pic.twitter.com/LrBdxs93kE

— Young and Restless (@YandR_CBS) November 25, 2018
Summer is facing a new challenge, and that's good for her. She's got a lot on her mind right now, and that's a situation she cannot face or handle on her own. She's going to find some things are not what they seem, but that's not all. They will always work out for her if she's able to put her mind to it, but can she do that without much more effort? We just don't know in that case. But there is going to be more issues than necessary when Mia shows up to cause some issues for Arturo even though they did seem to get over what was going on with them and make some amends. That's good news, and that works for us, too. But what about everyone else and their personal issues? Will they get through that? We don't know for certain, and that is a big problem for many.
The other issue is that Abby has a chance to take, and she's taking it. It may be a risk for her, it may be a problem for her, and it may be something that will end up hurting her in the long run, but it will work for her. She will find that things are going to work in her favor, but she has to take chances and make moves if that's the case. She can't just sit idly back and let her life pass her by. It's not working for her anymore. She's not that girl anymore. She's got more to live for than what she's been looking for.
Stay tuned for more Young and the Restless and be sure to check out TVOvermind daily for the latest Young and the Restless spoilers, news, and updates.