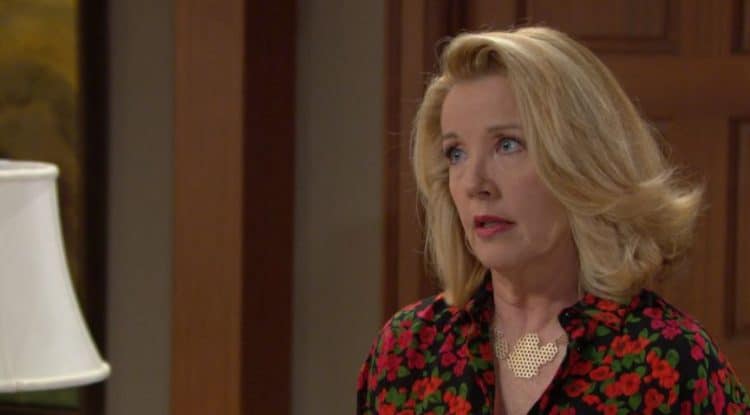 The Young and the Restless fans are just looking on with awe. We are all so proud of Abby and the way she is handling things. She's engaged to a man who has a brother who has a wife who is in love with her new fiancé, and she's not a fan. Mia is making her life a little difficult at the moment, but Abby is not about to let her make her miserable. She made it very clear to Mia she is aware that she is jealous and wants to be with Arturo herself, but he's taken and she's married. And she also let her know that she will not stand for her behavior these days, but she's also being super nice to her in front of other people. She's winning at the moment, and we love to see that happen. She's usually always the one who ends up in a situation that doesn't work out in her own favor, and this is not working out to be one of those unfortunate times for her. We like it a lot.
And then there is Nick, who is once again defending his family and what they stand for. He is always in this place of wanting to be rid of the Newmans for the rest of his life because of all the misery they bring him, but he's standing up in front of everyone telling them that he loves his family and that they are not bad people. When will he stop this and move on from this madness? He's been at it his entire life, and we know it's not working for him anymore. And will it even work to convince anyone that this is true? We don't know.
What's Happening on the Young and the Restless
Remembering, celebrating, Kristoff. We see you. We thank you for sharing your love, memories and heartbreak with us. Let's keep it going. Here are some of our favorite pictures of Kristoff St. John… all of our Neil Winters. Love to everyone posting and mourning with us ❤️❤️#YR pic.twitter.com/OeRCzUa1Fz

— CBS Daytime (@CBSDaytime) February 5, 2019
Everyone is grieving this week as they say goodbye to one of their own. This is an amazing actor who was taken from the world far too soon, and it's a situation that cannot be rectified. He is missed terribly already, and there is nothing anyone can do to ease the pain the Y&R family is feeling today.
What's Next on the Young and the Restless
It's February which means it's time to fight for love, family, and get on board the #YR love train! 💕 pic.twitter.com/hra2Didm17

— Young and Restless (@YandR_CBS) February 2, 2019
Sharon is always finding herself in a difficult situation, and it's becoming a little bit difficult for us to feel sad for her. She's putting herself in these places where she cannot make things work out for her, and we just don't understand what it is she's looking to accomplish. She's a mess, and we don't know what to do about her. We do think that there is a good chance she has to make some changes, and we do think that she can do that without too much of a situation on her hands. However, we also think that there is a bit that might make her feel worse than she already does, and she might not be able to handle what is happening to her.
Abby is struggling with Mia, but she's going to refuse to allow Mia to see that about her. She is not about to allow this to turn into something that will end up being a situation for her, and that's bad news. She's going to have to tough this one out, and that's all there is to it. She's going to have to spend some time focused on her own life and her own situation, and we cannot stop what is happening to her. Nick is still defending his family, and Victoria is not making things easy on anyone with her constant state of stress and upset. She's a mess, and she's not able to make that her own business because she is constantly in the middle of putting everyone else last.
Stay tuned for more Young and the Restless and be sure to check out TVOvermind daily for the latest Young and the Restless spoilers, news, and updates.