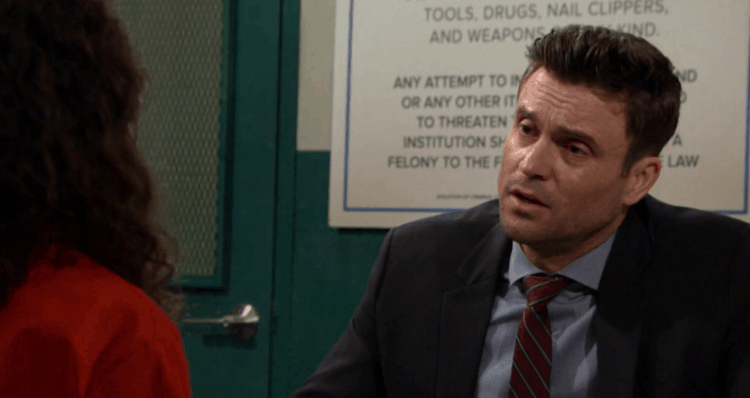 Young and the Restless fans were a little bit shocked to learn that Mia's secret is not that much of a lie anymore. No, we retract that. It's not at all a lie. She began by faking her pregnancy, but it turns out she is pregnant and things are not looking good for her. She's got a mess on her hands, and no way to know if she can get that situation under control. You see, she didn't just sleep with her husband, Rey, when they decided to give their marriage another shot. She also slept with his brother, Arturo, and now she literally has no idea who her baby belongs to and what is going on in her life. She has one man who just began a new relationship with a new woman, and one who just got duped by his fiancé because he lied her to about sleeping with Mia, and things are not good for him. In fact, both of the men who are brothers and could be her baby's daddy hate her.
It's not ideal. Meanwhile, Victoria did her own set of living it up in Vegas, and she's a mess now. She's had a lot going on in her life, and she's not someone who will focus on anything other than her own life and her own new reality. When Billy knocked on her door and interrupted her fun, she was shocked, and she was led to lie to him because she doesn't want him in her business. She's not interested in the way things are going with him, and she's looking to have her own fun in her own time, doing her own thing. She's got this under control in her own mind, but we just are not sure about anything else.
What's Happening on Young and the Restless
Victoria's taking a gamble in Las Vegas. #YR pic.twitter.com/cPNyfGRbMD

— Young and Restless (@YandR_CBS) April 5, 2019
Why did Billy have to come and ruin all her good fun?
What's Next on Young and the Restless
It's a week of taking chances, risks, and blackmail on #YR! Get ready. 👏 pic.twitter.com/uLF5porWNE

— Young and Restless (@YandR_CBS) April 7, 2019
Rey is getting all kind of hate from Paul, who already fired him. Now he is issuing an ultimatum that leaves him in the middle of a situation he cannot change, handle or, decide upon on his own. There is so much we think we can live with in terms of what happens to him, but we are watching him make a mess of his own life because his decisions are poor. And we don't know what will happen when he cannot live up to what Paul is asking of him. This will not end well, and it will only get worse as Mia realizes she is really pregnant and has a lot of problems to deal with on her own. This will not end well for Rey. Because Sharon will not be interested in sticking around when she finds out that he has a baby on the way — or that he might have one on the way.
Phyllis is working hard to protect her daughter. She knows that what she's gotten herself into is a real problem, and she's also aware that her daughter has no idea that her situation is a problem. She doesn't have a clue what she's done in her life, how it will affect her, or what will happen otherwise. She's a mess, and she has no idea how much of a mess she really is. It's all too much for her, and that is just what it is and how it will go down. Now, though, we wait to see how she decides to handle things.
Stay tuned for more Young and the Restless and be sure to check out TVOvermind daily for the latest Young and the Restless spoilers, news, and updates.