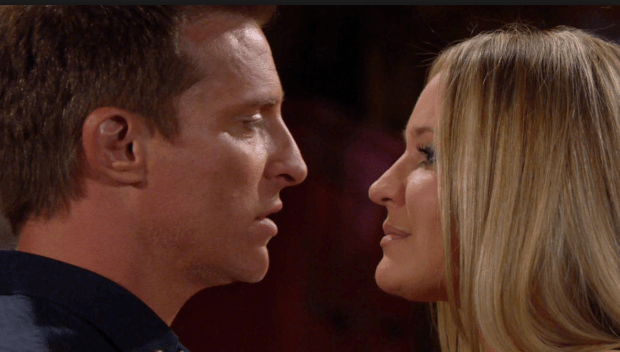 Young and the Restless fans get to see a lot of recasting. We are almost positive that it's the people from this show who leave and get into other means of business the most. They seem to have the biggest and the highest turnaround, but we think we could have made that up at the same time. We are only going by how it seems to us. Sometimes, the show gets it so right. They replace someone we didn't love with someone we do love, and it works. Sometimes, however, they don't do the most magical job of replacing people with others who work out so well. It's not because the people they hire to recast a role are bad at their jobs. It's just that they don't always fit the new role they are given with so much ease and finesse as others.
Sarah Aldrich as Victoria Newman
There was a time when we didn't think we could ever see this role played by anyone other than Heather Tom, but Amelia Heinle made us change our mind. She is amazing in the role, but there was a time when she was not the one who took over. Between her being this character for many years and Heather Tom leaving the role to go to the Bold and the Beautiful and take over as Katie Logan, there was an almost-forgotten actress by the name of Sarah Aldrich. She wasn't good. She wasn't bad as an actress, but she didn't fit this role. It was not a good match any way you looked at it, and that meant that it was a role that she could not fulfill. We thought she needed to go, but we thought she also needed a chance to take on another role elsewhere that might just suit her better. And that was a good call.
Shari Shattuck as Ashley Abbott
First and foremost, there is only one Ashley. Eileen Davidson is the only woman for this role. She is the only woman who can play this character, do this job, and make us all feel good about what it is she is up to. And that's the end of that story. However, there was a period of three years in the late 90s when someone else took on the role while she vacated it. And she was just not good at Ashley. Through no fault of her own, of course, she just could not handle it. She could not make it work. She could not make it happen, and she could not win in this role. It was not her situation, but that's because there is no one could can take on a role after someone as fabulous and amazing as Eileen Davidson. She built the role. She made the role. She is the character. You just cannot recast that and expect it to work out. We think, but we aren't sure, that the show knows this now. It just happened to be a kind of long mistake on their part.
Heidi Mark as Sharon Newman
There was a time when there was not a Sharon Case in the role. We always forget that she is not the woman who came into the show and played this role from the start, but that's something we struggle to remember. She is just so good at what she does, and we are not sure we can focus on anything other than how good she is. She is the woman who came in and took over, and she owns it. But, did you remember that she was not the first? She was the third, as a matter of fact. That's right. She is the third person to take over this role and make it her own. This is something the first two were able to make right, but they brought in Sharon Case and she owned it. She took it on, she made it her own, and she killed it every step of the way. She is amazing, and we love her in this role more than anything else. She's the woman we want to see working through her issues and getting her life together as Sharon. She rocks, and we love her.
Tell us what's wrong with this post? How could we improve it? :)
Let us improve this post!