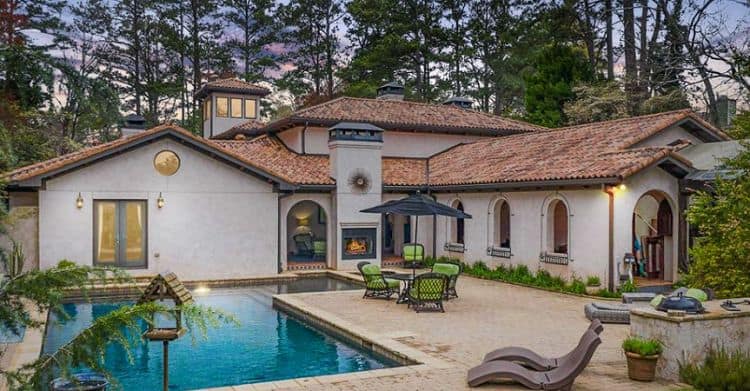 Famous homes from TV shows and movies aren't anything new when it comes to trends, but this mansion that's featured on Cobra Kai as the residence of the LaRusso family is an impressive sight that's now up for sale. All you need is about $2.65 million in your back pocket and it can be yours. Oh, and the catch is that it's not located in LA as the show would have people believe, but in Georgia, a pretty healthy distance away from any Cobra Kai influence as one should be able to surmise. The house itself is beautiful though and it's something that a lot of people would do just about anything to own for the sake of the space that it comes with, well over 9 thousand square feet, and 6 bedrooms as well as 6 full bathrooms. It's definitely the type of home that would require a cleaning service to take care of unless one simply didn't touch anything and only needed to perform light dusting. But the extravagance of this home is simply amazing since from a couple of shots it looks as though it tends to huddle in upon itself, but upon looking at it from multiple angles this isn't the case. There's no doubt that a lot of people would feel absolutely comfortable in this space and could even manage to pinpoint where each moment in the show happened.
With the tumult of season 3 well behind us, it's easier to calm down and try to figure out how season 4 is going to end up going. A lot of folks are no doubt thinking that they have it mapped out, at least in part, but if there's anything that people should know by now, it's that there are bound to be a few surprises around the bend. One thing that can be said, among the many, is that Cobra Kai has been doing what it can to tie up old storylines that have been left twisting in the wind over the years. The show has even given a different perspective to the supposed villains that were reviled in the original movies. Johnny Lawrence was the first individual to be looked at since to start with he wasn't much of a villain, even if we weren't given his entire background in the first movie. He was a jerk, there was no doubt about that, but he had a horrible sensei as well. Now that we know what John Kreese went through to become who he was though, it's easier for a lot of people to sympathize with him and for some to state that he's not really a villain but more of a victim of circumstance. That's a little harder to push than the idea that Johnny, and even Chozen, who was brought back for season 3, were villains since both of them had teachers that were hell-bent on teaching them more about aggression than the true nature of martial arts.
Whether people want to argue this point or not, a good sensei wouldn't have sent his students to the home of a rival to assault anyone, as Kreese apparently sent his Cobra Kai's to take care of Daniel and Johnny's students before they could find common ground with each other. Thankfully, as the battle raged on throughout the LaRusso home, Hawk finally realized what Kreese's teachings were doing, especially since he'd already been conflicted after breaking the arm of his friend Dimitri. Hawk's turn was an important one, as was Miguel's, and unfortunately, Robbie and Tory are still firmly under Kreese's tutelage and might stay that way until another individual arrives. Many are hoping for Terry Silver to come back, and perhaps even Mike Barnes, and even Julie Pierce, but until season 4 drops we won't know what's going to happen. All that's really obvious at the moment is that thanks to Kreese, there's no place that has been deemed off-limits when it comes to the ongoing struggle. His determination to show no mercy, strike hard and strike first has upped the intensity of the show to another level that people might have been expecting but are now likely realizing is a little more severe than was initially thought. Kreese isn't playing around, and he's not backing down, which means that the next All Valley tournament is going to be an all-or-nothing moment for Cobra Kai and for Daniel and Johnny.
Somehow, it feels as though a compromise is going to be reached at some point, or another tragedy is going to occur that will rock the cast in a way that Miguel's spinal injury did but in a much more profound manner. Things are heating up in a way that can't be slowed down at this point, and while everyone is more or less on the same page as of now, it feels that something could possibly happen that will threaten this stability in the days to come.
Tell us what's wrong with this post? How could we improve it? :)
Let us improve this post!