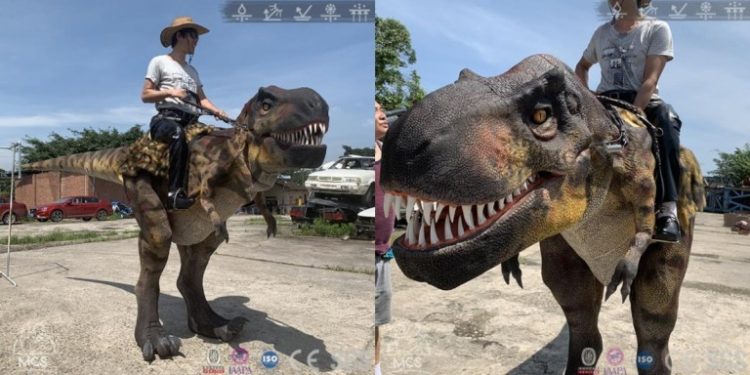 Well, you know when you see dinosaur clips coming out on YouTube and social media that it means that a dinosaur movie must be on the horizon or has at least been stirring up interest in the prehistoric eras for a while. This T.Rex costume however is kind of impressive since if you watch very closely you can see that the guy in the suit, who is operating it no less, is making it move since his hips are moving with each step. The costume is definitely elaborate since you can imagine that it must cost a pretty penny and is the type that you might use for more than just a casual Halloween costume. This the kind of thing you take to conventions and use whenever someone has the need. How else would a person get their use out of it apart from just taking it for a stroll every now and again? That'd be something to see, wouldn't it? It's too bad the clip isn't a little longer, learning the dynamics of how this thing works would be pretty interesting.
As far as making your own, it's been seen with other videos that those that have the know-how and engineering knowledge have figured out how to make their own dinosaur suits that are fully capable of moving around, but this thing looks like a professionally-done job since the outer skin has been fabricated and made to look as real as possible. It's amusing to think that the final form might not be what really existed so far back, as it's pretty common knowledge at this point that the dinosaurs we've seen in Jurassic Park and Jurassic World are cleverly crafted monsters that share some similarities with the actual creatures that once existed, but are still fantastical creations that have been pushed on us for generation after generation. You can't really fault people for liking the images we've been given since their outright terrifying and look absolutely devilish, the kind of image that would surely force a lot of people to stop in absolute fear if they came face to face with such a thing. But the renderings that are available online and in books are a far cry from what we've been given in the movies since honestly the truth is usually quite a bit different than what we like to believe.
It does make one wonder just how scientists and researchers know for certain just what these creatures looked like way back when considering that the only things that have been found are fossils without any muscle flesh, or other evidence. Fossilized remnants might be a good hint as to how they come up with their data, as would the formation of the skeletons, but otherwise it's a long explanation that might take a lot more space and time than this article would warrant. Let's say that they might know what they're talking about and that they might be guessing for part of it since paleontology isn't an exact measure. Anything that has to do with the past, no matter how much is left behind, no matter how much can be extrapolated from the past impressions that are left, is guesswork that is backed up by fact and at other times is simply theory that doesn't have a strong base but is made according to what makes sense. In other words dinosaurs did exist as the evidence that's buried in the earth is proof enough of that, but what they looked like is still an idea that's up for grabs.
That doesn't stop people from idolizing the mighty beasts that once existed however, as Brian Switek of The Guardian might agree, since the way they're made to look at this point in history is impressive and it's become a part of our culture since as the creatures of legend, myth, and reality they've been represented in many different ways. Each one has been scarier than the last since the effect they have on people is one that a lot of folks in entertainment have come to realize is entirely marketable and can be used to sell tickets, merchandise, and create theme park rides that people will find it nearly impossible to resist. We love being scared, we love ideas that entertain us, and we love the idea that dinosaurs were at one time the most powerful and influential creatures on the planet. There's something that's simply appealing about the massive creatures and as you can see in the video above some people are willing to go all out when it comes to the measures that they'll go to for their enjoyment. You can imagine that it might be kind of hard to walk in this thing if you're not used to stilts, so it might not be the best costume for everyone. It's still impressive though.