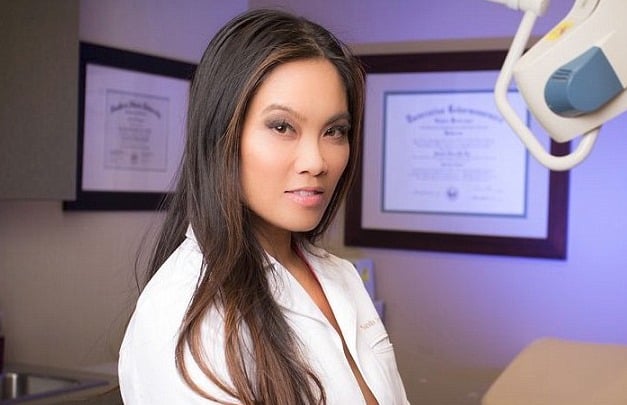 We all remember the episode of "Seinfeld" when Jerry refers to the Dermatologist he is dating as "Dr. Pimple Popper, MD" only to find out she has saved lives with early detection of skin cancer. Well,yes, there is a show called "Dr. Pimple Popper". TLC debuted the show on January 3. The show follows Dr. Sandra Lee a dermatologist as she helps diagnose and treat patients. Dr. Lee has become popular for her YouTube dermatology videos.
Here are five things you didn't know about "Dr. Pimple Popper".
Who is Dr. Sandra Lee?
Sandra Lee's parents are from Singapore and Malaysia. The couple settled in Queens, New York where Sandra's dad studied dermatology. Sandra was born in Flushing and her family moved to southern California when she was 5 years old. Sandra was always interested in medicine and influenced by her dad's career as a dermatologist. She majored in Biology at UCLA and went to medical school at Hahnemann University in Philadelphia and completed her medical internship at Allegheny General Hospital. You could say dermatology has always been "under Sandra Lee's skin". Deciding to follow in her dad's footsteps, Lee completed her Dermatology Residency and did a fellowship in Cosmetic, Surgical and Dermatology. She was mentored by world renown dermatologist, Dr. Richard Fitzpatrick, and started her own practice when she was 33 years old. Dr. Lee is married to a dermatologist. The couple have two sons.
Why social media?
Educating people about skin conditions which can be frightening is a cause close to Dr. Lee's heart. Understanding that a lot of people are frightened by skin conditions and hesitant to seek diagnosis and treatment, Dr. Lee began posting professionally and personally on Instagram. She started her YouTube channel which mostly included pieces from her television appearances discussing dermatology conditions and treatments. Dr. Lee realized that dermatology is a visual field of medicine, so why not post on social media? Unexpectedly, Dr. Lee's YouTube programs and Instagram posts were increasingly followed and shared. Dr. Lee was soon reaching millions with her interesting clips.
What are Popaholics
Fans of "Dr. Pimple Popper" videos, and now a television show, call themselves "Popaholics". Many people were soon tuning into and sharing Dr. Lee's YouTube channel. Some people just love to see pimples popped and lumps exposed, but many tuned in find out if their own blotches or lumps were something not to ignore. Many of Dr. Lee's followers are doctors, nurses, physician's assistants and estheticians. While Dr. Lee's goal is to educate, there seems to be an interest among "popaholics" to watch pressure build and be released. Maybe that is a big part of the fascination. Today, Dr. Lee has over 3 million YouTube subscribers, over 2.5 million Instagram followers and over 2 million Facebook fans. No wonder TLC got the idea for a television series.
More than just videos
Sandra Lee, MD has worked hard to educate people on recognizing skin conditions and not fearing treatment. She also focuses on skin care and even started her own skin care line last year. This isn't just a skin care line to make skin look younger. This is a skin care line to help keep skin healthy. SLMD Skincare is based on a dermatologist's approach to healthier skin. It includes an acne treatment line and other treatments to keep skin healthy and radiant. Aside from her social media videos, Dr. Lee has made "The Pretty Pimple". This is special digital media platform to educate people about skin health. It provides simple explanations about skin conditions that can be frightening. The series also provides assurance on treatments that can be trusted because they come from the top experts of the field of dermatology medicine.
What to expect from the TV show and more
"Dr. Pimple Popper" on TLC will be much more than videos of popping zits. The show will focus on Dr. Lee's patients and bring to light the reality of frightening skin problems. The show will provide a more in depth look at Dr. Lee's diagnosis and treatment of conditions including in office procedures and surgeries. Dr. Lee will also discuss preventative skin care. Dr. Lee also recently started a Facebook Watch Series. It's called "This Is Zit". The series is live every Friday. Clearly, Dr. Lee has a great handle on educating the world on dermatology through "pop" culture.