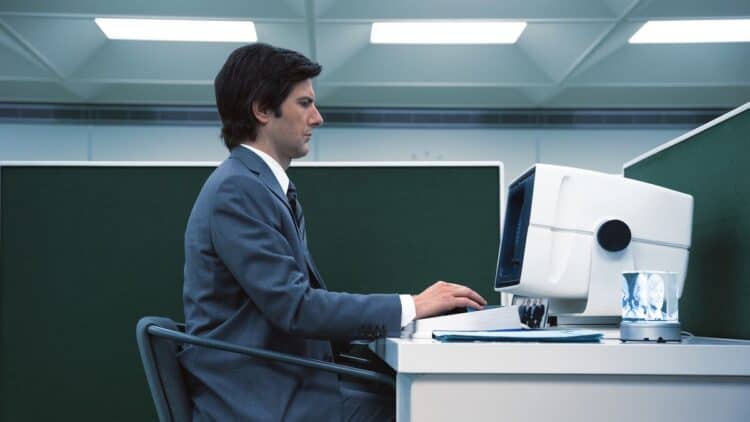 Calling Severance an odd show is putting it lightly since the program managed to make a lot of people think about what was really going on between the working and home lives of the Lumon employees. From the start, it's established that the individuals remember nothing of their home lives when they're at work, and don't remember anything that went on during their day when they're at home. But despite this disconnect it's easy to see that there are more problems than solutions as the show starts by showing Hilly lying on a conference table, being directed by an anonymous voice that emanates from a speaker that rests on the same table. Even understanding that something screwy is going on doesn't help the audience to gain understanding, but this appears to be by design. The audience is apparently meant to be confused for much of the first season, but thankfully things do end up becoming clearer, kind of, as the show goes on. Severance has already been renewed for a second season, but with the season one cliffhanger it's fair to say that predicting how the second season will go is going to be insanely difficult.
While Stiller hasn't acted that much if at all, it would be a nice treat to see how he would fit into this story. Perhaps he could even be the controlling board member that the audience hasn't seen yet, or maybe he's bound to show up in a cameo that can serve as a temporary linchpin to the story. However it might happen, it does feel as though Severance's director should find a way to inject himself into the mix and see how it pans out. The story could probably get a little stranger, but it also feels as though it's already teetering as it seeks to fully explain the connection between the work selves and the home selves of the main characters.
Thus far, the premise of this show has been kind of insane when one really thinks about it, and there are plenty of people that see the commentary on the everyday worker's life since the whole idea behind Severance is to disconnect one's working life from their personal life. One of the many problems with this however is that it ends up royally screwing up the mind in a way that, hopefully, a lot of people might have seen coming. After all, there are plenty of people out there that might agree with the idea in theory, but the truth of splitting one's consciousness between work and home sounds like a mistake in the making from the get-go. But it's fair to state that there are plenty of secrets ready to be revealed in the second season given that the finale cut off so quickly that it wouldn't be surprising to hear that many audience members might have groaned in frustration as they realized that they're going to have to wait a while to figure out what was going to happen once the switches were hit once again. And then there's the idea of what's going to happen once the show returns and the group has to go back to the office.
It's at least a little terrifying to think of what might happen to one's mind if it were compartmentalized in this manner, and even more confusing is that there are people in the world that experience this kind of thing, though, of course, most don't elect to experience it. In theory, the idea sounds like something that might be just fine to consider as something that might give a person a new lease on life, since the idea of being happy at home even if one is miserable at work might be tempting for a lot of people. The downside of this is that there's a good chance that the mind, which is just as resilient as the human body in a lot of ways, would no doubt try to reconnect with the lost portion of itself out of habit. The manner in which this show has been directed is a credit to Ben Stiller's directing skills, but it would be fun to see him step in front of the camera as well.
The only thing that might not make this a great idea is that while his drama skills are easily up to the challenge, there are times that he can't help but appear as a comedic character no matter that he's trying to be serious. But given the great cast, he has to work with it could happen that if he did step in front of the camera for a bit in the second season, it could work in a way that a lot of fans might enjoy. We'll have to wait and see what happens, but whether he does or doesn't show up on the show, Stiller has been doing a great job all the same.