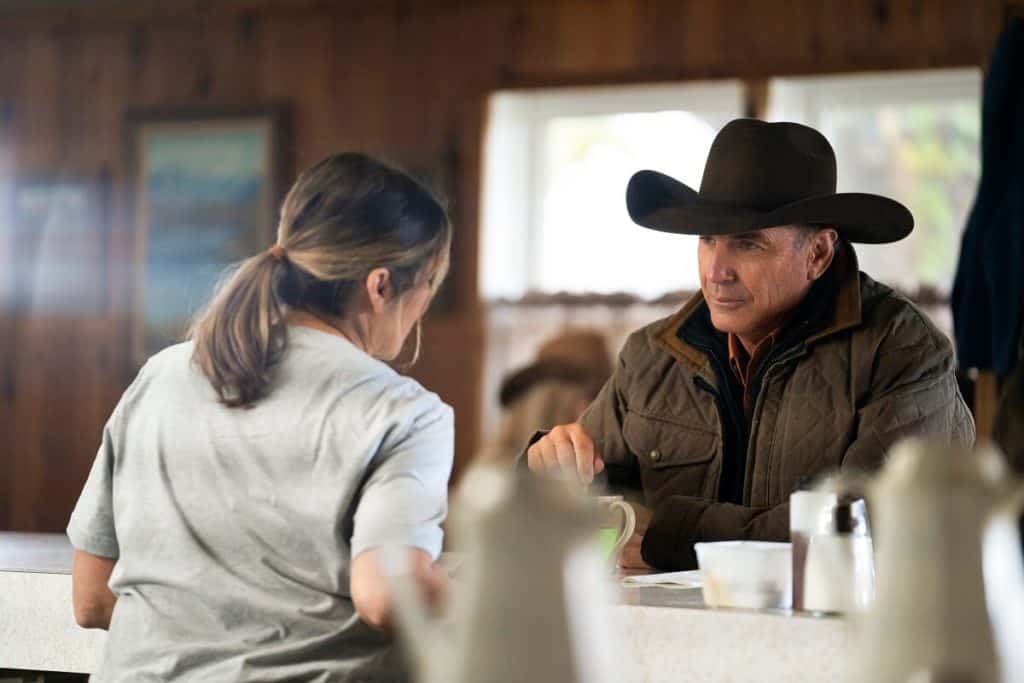 If anyone ever said that life was fair, they were either lying or they didn't know what they were talking about. The Dutton family is continuing to go their own way in this current episode, but unfortunately for Beth, life just took a huge turn that she wasn't expecting. Her machinations with Summer have blown up in her face as the activist not only called John into the prison where she's being held and threatened with a life sentence, but she dimed out Beth without any prompting, making it clear that John had no idea what his daughter had done. The confrontation that was bound to come after was big enough that Rip wanted no part of it, and as a result, he and Carter made their way to the bunkhouse so that John and Beth could have it out. Of course, the end of the conversation wasn't quite what Beth had been hoping to hear, especially since she'd never expected to hear her father's disappointment aimed at her. In all the time she's been fighting to keep her father's legacy alive, it would appear that she forgot, accidentally or on purpose, what it meant to fight with some measure of dignity.
One bright spot in the story at this point is Jimmy, who's been through the wringer so to speak, and has come out the other end as a cowboy. Perhaps the hardest thing in Jimmy's life at this point is the fact that he finally found someone that he could love, who loves him for who and what he is, but being called back to the Dutton ranch puts a huge damper on his love life. But there is the fact that Jimmy still owes John Dutton, and returning to Yellowstone isn't something he can avoid. But asking the woman he's with to wait for him, now that's a plan, and it's one that she appears to be on board with, which means that, unlike Jimmy's previous relationship, there's something to it rather than the expectation of Jimmy's potential.
Meanwhile, back on the ranch, fixing things is still a huge problem as Jamie's chances to run for mayor appear to be going up in smoke as it's revealed once again that his father is a convicted killer that he needs to distance himself from if he's to have any chance of getting what he wants. The fact that Garrett sought out John Dutton not long after, showing up at one of his regular haunts, was likely a bad idea on his part since John Dutton isn't the kind of man that takes well to threats. But as John says to Carter at one point in the episode, there's no such thing as fair. It would appear that John is ready and willing to go to war with Jamie and Garrett at the same time, but unless Beth is going to follow his idea of morality, she won't be a part of the fight any longer. One has to wonder what this is going to do for her temperament when she finally comes out of her funk. One thing that's been made quite obvious is that it's not wise to upset Beth unless one can withstand the onslaught that she's ready and willing to unleash most times.
As difficult as it can be at times to find any innocents in this show, there's a definite need to pick sides, especially since there are those who are worse than others. Many might want to debate over who's the worst and there might be a few surprises when it comes to choosing sides, but the fact is that while the Dutton's aren't much of a prize, even Kayce has his issues, one of which is Monica (I stand by my words that she's not the innocent she's built up as), their enemies are willing to go to lengths that prove that they're no better. With only a couple of episodes left in the season it's not hard to think that the finale is going to be a tense and very pointed battle between the Dutton's and those that continue to come for them, but what is in question is who will be standing at the end. Seeing Yellowstone continue after this season is expected, but what might not be expected is to see the hostilities come to a head in a way that might be best for everyone since obviously, things aren't fair. One thing is obvious, it's about as close as it comes to being a free for all when it comes to the future of the Dutton ranch. Things are heating up in such a way that it's bound to happen that the Dutton's will either have to band together to save the ranch or split for good and go their own ways, to disastrous effect.
Tell us what's wrong with this post? How could we improve it? :)
Let us improve this post!