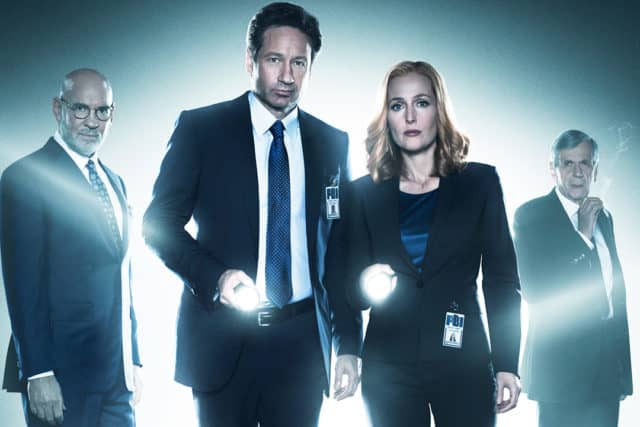 Fox television network executives made significant announcements about The X-Files Season 11 at their day of the Television Critics Association press events. X-Files series creator Chris Carter has hired two additional, highly accomplished, sci-fi genre directors who happen to be women. Also, three women writers join the writers' room. William B. Davis returns as C. G. B. Spender (aka Cigarette Smoking Man, aka Cancer Man). Finally, The X-Files season 11 will pick up soon after the dramatic cliffhanger of season 10 and consist of a total of ten episodes — eight stand-alones, and two simplified mythology episodes.
Mr Carter hired two exceptionally qualified directors to round out his directing staff. Darren Morgan, his brother Glen Morgan, and James Wong had already signed on with Mr Carter to write, produce and direct two episodes each. Carol Banker and Holly Dale will each helm one of the remaining episodes. Ms Banker's history with the franchise began to 1999 when she served as script supervisor. Ms Banker continued as script supervisor of The X-Files until 2002. She also directed for X-Files spinoff The Lone Gunmen.
Ms Dale has no history with any of Chris Carter's shows. But Ms Dale has directed more than 100 hours of television episodes including genre hits like Grimm, Reign, Agents of SHIELD and Falling Skies. Male or female, gay or straight, from whatever ethnic group, it's talent and skill that make a good director. Resumes like these ladies have are what I want, as a fan, for the directors of my favorite sci-fi/horror/mystery shows.
The X-Files Season 11 will also expand its writers room by three additional chairs. Mr Carter promoted the Season 10 script coordinator, Karen Nielson, to write one episode. Also, Kristen Cloke and Shannon Hamblin will write an episode from a story by Glen Morgan.
Tbe story structure for The X-Files Season 11 will be similar to that of Season 10: Starting and ending with mythology episodes and stand-alones in between. Indiewire also had some additional notes. Season 11's premier will feature a search for Mulder and Scully's son William. William may hold the cure for the disease that was killing Mulder as the credits rolled on Season 10's finale. William B. Davis will return as Mulder and Scully's long running opponent: C. G. B. Spender. And finally, the X-Files season 11 reportedly includes allusions to the X-Files long running supporting characters Frohike, Langly and Byres, aka The Lone Gunmen.
With or without The Lone Gunmen, The X-Files Season 11 is in production now. TVoverMind will continue to bring you coverage of this and other favorite programs.
Save
Tell us what's wrong with this post? How could we improve it? :)
Let us improve this post!