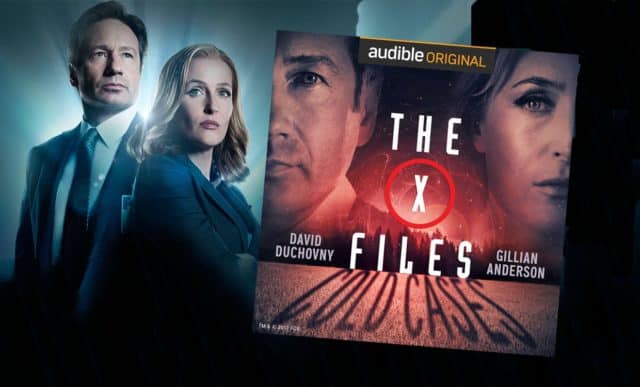 There was a gap in Fox Television's offerings for the 2017 San Diego International ComiCon (SDCC 2017), right before X-Men. The X-Files should have fit in that gap; it was X-Files shaped. As we subsequently reported, an X-Files panel featuring David Duchovny and no other names from the television show did fill that gap. The other name on the panel was Dirk Maggs, a name I should have recognized, but didn't. According to EW, The X-Files panel at SDCC featuring Mr Duchovny and Mr Maggs will discuss and promote the Audible Original full-cast audio drama, The X-Files: Cold Cases.
I should have recognized Mr Maggs' name because he made phases four and five of the Hitchhiker's Guide to the Galaxy for BBC Radio 4. For any readers who haven't paid attention to full cast audio dramas since CBS Radio Mystery Theater went off the air in 1982, please take note. Mr Maggs is really one of the best at bringing stories to life in audio drama. Mr Maggs employs a great voice cast, performing from taught scripts, vivid descriptions, along with great music and sound effects. He brings forth the most expressive emotions out of his voice cast. In their SDCC panel, Mr Duchovny and Mr Maggs will undoubtedly discuss the production and story of The X-Files: Cold Cases.
The X-Files: Cold Cases brings back the television program's favorite series stars and recurring cast members. Gillian Anderson (Agt. Scully), Mr Duchovny (Agt. Mulder) and Mitch Pileggi (FBI Asst. Director Skinner) returned (of course). Also returning to join the cast are fan favorites William B. Davis (Cigarette Smoking Man), and the Lone Gunmen: Tom Braidwood (Frohike), Dean Haglund (Langly), and Bruce Harwood (Byres). This audio drama is based on a series of graphic novels, of the same name, from Joe Harris and Chris Carter. Mr. Carter provided creative direction to The X-Files: Cold Cases audio drama.
The X-Files: Cold Cases takes place after the second feature film and before the most recent television revival series. In the story, person or persons unknown have breached FBI security and laid bare the secrets of the X-Files. FBI Asst. Director Skinner must recall Scully and Mulder to put a lid back on things. Along the way, our intrepid Agents will call in the assistance of Frohike, Langly and Byres (perhaps by seance, perhaps by flashback, it remains to be heard). No doubt Mulder and Scully will also cross swords with the Smoking Man as well as a cast of conspirators and a phalanx of freaks. This will be a great story and I can't wait hear it on Audible.
The X-Files: Cold Cases drops at Audible.com and the Audible app for Apple and Android smartphones on July 18, 2017. The X-Files television program returns to the Fox broadcast airwaves in 2018. SDCC takes place from 19 – 23 July 2017 at the San Diego Convention Center in San Diego, California. We here at TVoverMind.com will continue to provide ongoing coverage of all these properties and more.
Save