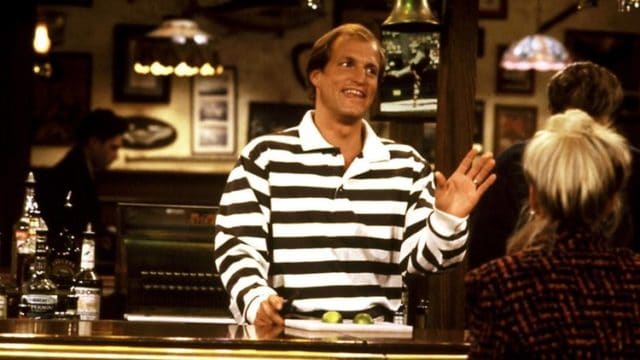 Woody Harrelson was a straight up character on Cheers. He was one of those guys that you could look at, listen to, and be fairly certain that as dumb as you felt at times you were still miles above Woody. His character was kind of a dunderhead most times but he had a lot of charm and a lot of heart. Throughout the length of the show he was one of the guys you kind of wanted to see and one of the only guys that was worth keeping around for the long haul.
He helped to make the show memorable.
5. No help
One problem that Woody had was that his mouth would work at times and words would come out but his timing was really lousy. When Rebecca was going on and on about how she was worrying over her fears Woody just had to chime in about a scary movie he'd watched that had the effect of unsettling her even more. Of course when she told him to stop he just kept going until finally he stopped talking. But of course he did something else in the next moment that only made things worse.
4. What's new?
For having such a lack of brains Woody had a lot of heart. That tended to get him into trouble a time or two throughout the length of the show since with all that heart and not enough brains he really didn't know how to react to life at times. In fact it seemed like he just stumbled through a lot of moments in life and relied on little more than sheer luck that he didn't end up falling on his face more than once a day.
3. Losing $20
So this goes back to the old joke of how you fool someone with less than average intelligence and then how they turn around and fool you. Woody pulled that trick extremely well when he went and recited the serial number off of a $20 dollar bill that Cliff had found, proving that it was his. Now how many people would be sitting there with their jaws hanging open after witnessing this? Hands up if you're honest.
2. Election change
Frasier is always out to prove some kind of point no matter if it's something that people care about or not. He just has to be right and unfortunately this time Woody just happened to be standing there when Frasier decided to put him in the middle of a bet between Sam and himself. The only problem is that Woody kind of failed to realize that Frasier is kind of likening him to a chimp when saying how easy it would be put Woody in a suit and get people to vote for him.
1. Rat and mouse
Woody does have some smarts but when he goes so far as to correct someone it kind of leaves a heavy silence in the room since it's almost like a child correcting an adult. You don't know whether to laugh, shake your head, or do both at the same time.
He was funny though, and amusing to watch.