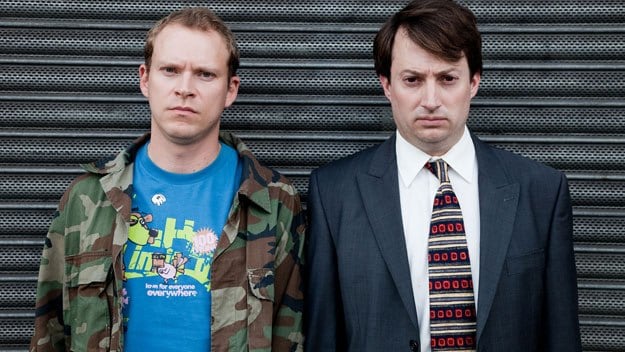 In case you haven't seen it, The UK Britcom "Peep Show" is one of the funniest, irreverent shows ever put on TV. For nine glorious seasons, the show featured the comedy team of Robert Webb and David Mitchell. They play two London blokes, one a loan officer, and the other a slacker who lives in his friend's spare room. The guys interact on a daily basis with a wacky host of characters, many of them women, who are also lampooned as larger than life crazy personalities.
We Americans are addicted to British shows and often we try to remake them as American. Some have worked well, such as "Queer as Folk" and "The Office" but some like the American version of "Being Human" did little to capture the magic of the UK original. So now there is talk about an Americanized version of "Peep Show" but according to an article on the Digital Spy Website, the plans aren't going so well.
Sam Bain, one of the co-creators commented that doing remakes is "really hard" and that the original characters were written specifically for Mitchell and Webb, so filling in the roles of Mark and Jez would be problematic. STARZ network turned the project down. Bain compares rewriting the show for American television to be like eating the same meal again. Although this is the official word from the creators of the show, there may be other reasons as well that a remake of "Peep Show" wouldn't work.
Okay, so the original takes place in London so what city would the remake be set? New York? LA? Chicago? Would the lines be as funny said without British inflection? Like Jez's line: "You realise that tinned food is just for crackheads and wars?" There are so many ingredients that make "Peep Show" quintessentially English. The put-downs said in a deadpan snark that the two main characters have perfected work for the two actors, who have a symbiotic chemistry. The political references are light and off the cuff. Would this work in America where we are more divided and politically serious than ever before?
Then there is the casting–America would need to find counterparts for and these counterparts would be better looking with perfect teeth, no doubt if "Peep Show" got the Hollywood makeover. Unless Mike Meyers decides to adopt a new British persona and if this is so we should be scared. Yes, the wacky adventures of roommates living in the big city could work on TV, as it has for decades but it has been done over and over again. Do we really need to co-opt this British treasure? That would be like taking the Britcom "Keeping Up Appearances" and trying to pass off an American Onslo.
Characters like Toni and Big Suze would be deemed offensive, as they are tropes. But that is the whole underlying theme of "Peep Show". We, the audience are peeping into a show of utter insanity and politically incorrect scenarios. The British have a way of treating sex in a comedic fashion. Americans haven't totally captured that knack. "Peep Show" has their characters saying very weird things, most of which include a curse word or offensive reference so I can't include them but tune into "Peep Show" on sites like AcornTV or any streaming way you can, because it is so worth it.