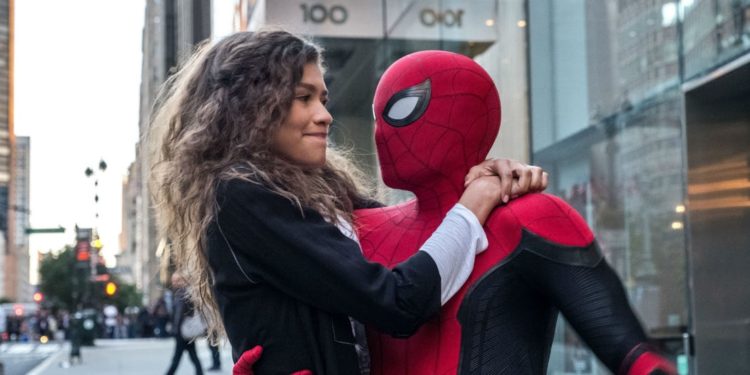 Remember back in 2019 when Sony reportedly couldn't work out a deal with Marvel? At that point, it looked like Tom Holland's future as Spider-Man in the Marvel Cinematic Universe was up in the air. We were all nervous, rightfully so, especially since Far From Home left us with the ultimate cliffhanger. I remember just thinking to myself if Sony did decide to fully reclaim Spider-Man, would he ever interact with the other MCU heroes ever again? That would've been pretty confusing, wouldn't it? Or maybe there was some underlying plan to bring Tom Holland's Spider-Man into their own little Spider-Verse.
Honestly, who didn't suspect that? After all, a year before Spider-Man: Far From Home came out, Sony released two of their own Marvel movies that were immensely successful. First there was Venom, which didn't connect well with critics, but many fans loved. Oh, and we just can't ignore the fact that it made way more than we all expected it to at the box office. And come on, it didn't even need Spider-Man in the flipping movie. I guess having Tom Hardy as your leading man really comes in handy.
And right after Venom was released, Sony released a sweet little animated superhero film called Into the Spider-Verse. If you've ever wondered what a Spider-Man movie with multiple Spider-Men would be like, that movie was right on the money. And just like Venom, Into the Spider-Verse didn't have Peter Parker as the main character. Sure, he was in it, but he was far from the typical Peter Parker Spider-Man we all know and love. Then again, a Peter Parker voiced by Jake Johnson is pretty hard to turn down. What we got in Into the Spider-Verse was an origins story that mostly centered around Miles Morales.
If you're familiar with that character, you'll know that he was briefly referenced in Spider-Man: Homecoming. While Peter (in interrogation mode) was attempting to interrogate Aaron Davis, he mentioned his nephew. And heck yes, he was certainly referring to Miles Morales.
So how does this all connect to the other Marvel movie universe that Sony is building? Is it directly connected to the MCU or is it just adjacent to it? We've been wondering this for a while now, and after that whole broken deal fiasco between Sony and Marvel, it seemed like Tom Holland's future as Spider-Man was going to lie in another cinematic universe. Thankfully, however, Marvel and Sony managed to reach some sort of compromise, which will allow Tom Holland's Spider-Man to remain in the MCU. Well, at least for a little while longer.
With that in mind, the terms of their deal ends with the upcoming and highly anticipated Spider-Man: No Way Home. Speaking of Into the Spider-Verse, if you thought that animated movie was ambitious, wait until you get a load of this next Spider-Man movie. If you haven't heard the rumors boiling around this movie, you have to be living under the biggest rock in the world. It hasn't been confirmed yet (although it should be at this point) but Tobey Maguire and Andrew Garfield, the two previous Spider-Men, will apparently be returning to their roles to join Tom Holland's Spider-Man.
Now that is some seriously eye-popping news. However, the important thing to look at here is the deal that Marvel made with Sony. Don't forget, Spider-Man and the main characters who are associated with him are still very much under the Sony banner. They own him and they can still do whatever they want with him and his supporting characters.
Speaking of which, Sanford Panitch, the President of Sony Pictures Motion Picture Group, recently sat down for an interview with Variety and laid out their plans with Spider-Man. In fact, he didn't just talk about Spider-Man, but their own cinematic Spider-Verse. And for the record, according to him, they don't exactly think of their "900 characters" as a Spider-Verse. He claimed that they are building their own Marvel Universe. Not a totally surprising comment, but what he said right after was a real head-turner.
According to Panitch, you don't miss Spider-Man. That alone doesn't sound very interesting, but he also said, "wait until you see this next Venom". Whoa, now I'm very anxious for Venom: Let There Be Carnage. We'll we actually see Spider-Man join Tom Hardy's Venom this time? In fact, will it even be Tom Holland's Spider-Man? All fair questions, but this interview does suggest that Sony could indeed be fully reclaiming Spider-Man once again.
Now that could be the worst case scenario. The thing is, Panitch did also imply that Sony could still be turning to Kevin Feige to assist them in expanding their SPUMC universe. Given the stellar reputation Kevin Feige has built for himself over the years, it would certainly be the smart move.
But what about their deal coming to and end? We know that Tom Holland's contract will be up by the time No Way Home comes around, so does that really mean his time in the MCU is done? It honestly shouldn't be. I actually think a more likely outcome would be Sony and Marvel extending their deal in a way that would benefit both parties.
We also know that the Multiverse will be coming to the MCU. So if Sony does want Tom Holland's Spider-Man to be a part of their SPUMC universe, then no problem. All they need is for Marvel to set up the Multiverse and he'll be meeting Tom Hardy's Venom inevitably. That's an interaction we really need to see, but that would also mean Tom Holland's Spider-Man will be a part of two cinematic universes. Whoa, now that sounds like quite the ambitious plan. And with Tobey Maguire and Andrew Garfield joining him, can Sony top themselves any further? I really don't think they can. What can be more ambitious than a live-action Spider-Verse movie?
That's really what I took from that Variety interview with Sanford Panitch. I think now we're more hyped than before, but if what he says turns out to be good news, then it proves Sony and Marvel are at the top of their game when they collaborate. It's always nice when things work out, isn't it? Can they just confirm those Tobey Maguire and Andrew Garfield rumors already?