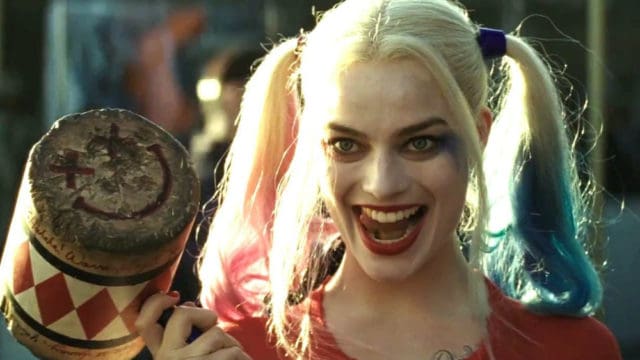 It might be time for Margot Robbie to make that push towards an Oscar. Yea or nay? If you judge her solely on the characters she's played in the past then you might say nay simply because a few of them weren't that convincing and in fact were kind of hard to watch. But if you take a look at all of them, and it's advised to do so, then you might take into account that her parts were actually right on the money while she had to deal with others around her that weren't quite as good or were downright horrible.
Her acting on the whole has been fairly good and even brilliant at times. The picture above of her playing Harley Quinn was actually quite well done considering that Suicide Squad met with mixed reviews and a whole lot of shade thrown by the fans. Not a lot was thrown her way though, thankfully because most of her fans are adolescent boys that are still naive enough and hormonal enough to think that a cool, skimpy costume and a messed up makeup job are enough to make an actress popular. Yeah, there's plenty of adult men that found her rather alluring as well. Guilty.
Ignoring that little tidbit though she did fairly well as Harley Quinn and has also had success in other roles for which she's only gotten a token amount of praise most times. She is a great actress, but she needs a role such as the one she has now to really prove it. Showing the Academy that you're worthy of an Oscar is kind of tough when you're playing the role of a woman that's little more than a trophy wife or a psychotic she-devil that's in love with a green-haired individual that lives for chaos. Don't get me wrong, she played both parts to a tee, but the unfortunate part is that the roles don't seem to have been taken all that seriously by those who make the considerations for the awards.
Maybe playing a more serious, historical figure will cater more to the Academy's delicate sensibilities. If you're sensing any sarcasm there that's good because I'm doing what I can to lay it on pretty thick.
Too many actors get denied their fair shot at winning an award as prestigious as an Oscar in favor of those that are either more established or will actually do things the way the establishment wants. In truth the Academy Awards are becoming, or have already become, a giant popularity contest in which merit and skill no longer matter, but are eclipsed by whoever is the most popular or influential person in the room. (cough, Meryl Streep, cough cough)
If an actor gets nominated and awarded by merit that's great, it's what is supposed to happen. But if they're getting the nod just to make history then things need to change. Margot Robbie has shown that she has what it takes to get the nod based on merit. Let's hope that nod is for more than just a nomination.
Save