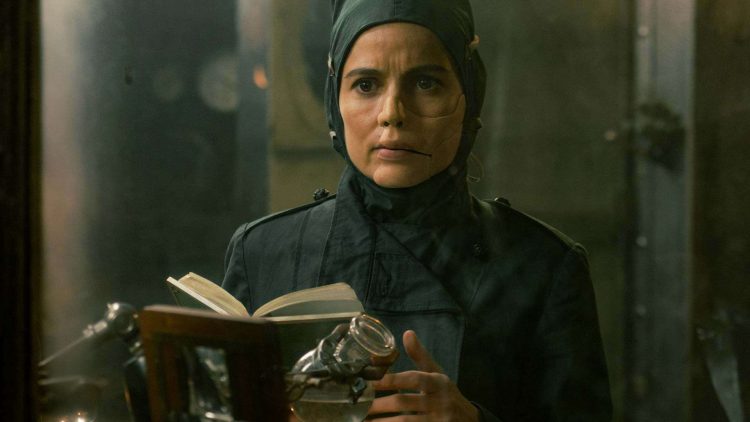 Elena Anaya is another of those actresses that you might have heard of but need to research to really know who she is and what she's been in. She does have acting credits to her name and in movies and shows that you've likely heard of, but once again she's another name mixed in with a lot more that have likely been pushed and hyped to such a degree that they overshadow a lot of other people. But thanks to the internet there are multiple searches that can look up pretty much anyone in show business and tell you what they're up to and what they've been seen in. And to be honest she's worked with some of the best among those that are established and those that are up and coming and she's performed beautifully for the most part. Like some actors she's been in a few movies that were less than stellar but she's still done what she could to play the best role possible.
Here's a few things you might not have known about her.
10. She's practiced Shotokan for 15 years.
This is typically a type of karate that seems geared more for show and is very impressive and can be used for personal fitness and even self-defense if one learns how. But after 15 years you would think that she knows how to handle herself or has the movements down by heart.
9. She enjoys freediving.
Freediving is pretty much what it sounds like. It involves a person diving as deep as they can without any added apparatus or equipment that could help them go further and last longer. It's dependent on the air supply of the individual but can come with a few of the problems that deep diving can depending on how far the diver goes.
Though it's not the character's actual name in the movie it is how she's best known and she's kind of a sad but virulent character since she does the bidding of evil men but at the same time is a broken soul that doesn't know any other way to be.
7. Her career began in 1995.
She's been around a while and has likely been a supporting actress or an extra a lot of times, or a guest star that's there and gone. You could say that her career has finally bloomed after her part in Wonder Woman, but she's been enjoying success long before that.
6. She's in The Skin I Live In.
This is a rather disturbing story of a man that lost his wife and then his daughter and then decided to kidnap a man that had supposedly raped his daughter and turn him into a facsimile of his wife and name him Vera. Obsessive and disturbing don't even begin to describe the depravity in this film as 'Vera' finally works up the nerve to kill her keeper and return home.
5. She's in Van Helsing.
You could say this was one of the more reviled horror films ever made since it took the legend of Van Helsing and made it into a kind of horror comedy that didn't have a lot of redeeming values and kind of butchered the old legends in its own unique way. As one of the vampiric brides Elena was a fairly important part of the movie, though it was kind of odd how their jaws distended like snakes when they were trying to feed.
4. She's won a few awards.
Her efforts in film haven't gone unnoticed since she has been nominated and even awarded a time or two. She's gained enough credit in her life to keep going and remain hungry for that recognition but not lax after winning so much.
3. She decided she wanted to act at the age of 17.
Some people decide they want to act early on, others need some time to think and finally decide what path they want to take. Some folks don't even make that decision until they're in their 30s or 40s.
2. She cares more about living her life than being accepted by society.
To better explain this she's not really impressed by what society deems as beautiful or ugly. Elena would much rather be herself and only have to look the part when it's time to get ready for a gig and thereby be required to get into shape or look glamorous. Otherwise she's happy with the way she looks and who she is.
1. She's a very forthright person.
Some people would say that there's not enough of this in the world and that's a valid opinion since telling people how it is and not holding back seems to indicate that a person is a troublemaker and has no social filter that they use when in polite company. Honestly, if you can't tell people how it really is then you're becoming part of the problem.
It's very easy to respect a person like Elena.