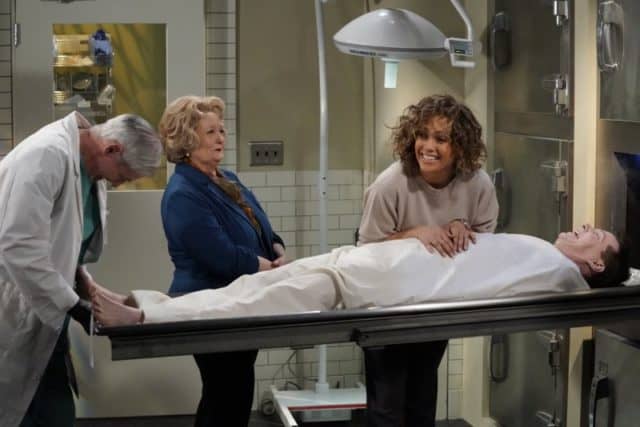 It's the question we spend a lifetime trying to answer: what is it going to take for me to be happy? It's not as if Will, Grace, Karen, and Jack haven't taken steps to make that happen. Will quit his job and partnered with Grace. Jack took a leap of faith jumping into a monogamous relationship. Karen managed to place a work order while sipping her martini. Things they didn't think would work are working, so why are Will and Grace still not happy? It takes, of all things, a baby shower to turn the tide. And no, this is not a repeat of Will & Grace's "let's have a baby" storyline.
As I said, Jack and Karen are probably the most content. Jack gets his dream role of 'Corpse' on Shades of Blue, reuniting him with Jennifer Lopez; also known as "Jenny From The Blocked Me On All Social Media". After thirty-something takes on one scene, we can kind of see why J. Lo blocked Jack. While Jack reconnects with the celebrity he stalked, Karen watches the kids he teaches at the Rec Center. There was a reason Karen was never allowed near children, and had the good sense to avoid them like the plague she thought they were. It was only a matter of time before Karen built her own sweatshop. At least she and Jack come up with a good cover so the parents don't find out.
Will gets some education from the younger generation when he goes with Grace to a baby shower. While Grace is stuffing her pockets with bad wishes for all the moms she thinks are judging her, Will gets an earful of advice from some teenage girls. More specifically, Will gets some life coaching and social media schooling about his love life. If you weren't already overwhelmed with dating, these girls' take on deep liking, breadcrumbing, and bunny rabbits will drive you crazy. But they have some good logic as to why Will would want to revisit an old love.
The only thing crazier is Grace's meltdown having to explain to the moms at the shower why she was writing nasty things about them. The funny thing is, as much as Grace thinks the moms are judging her for not having children, they think she is judging them. All this confusion ends in a really empowering moment where Grace points out that if they are all happy with their choices, they shouldn't let anyone shame them. Why should they feel guilty for anything if they are happy? Grace is happy, but Will isn't. Forget the judgment. Will needs to go for it while he still can.
Was it fate that Grace reached her "Aha!" moment on International Women's Day? Is Will going to go after his happiness?
Will & Grace Season 9 Episode 13 Review: "Sweatshop Annie & the Annoying Baby Shower"
Summary
Will & Grace each have an "Aha" moment about what makes them happy.