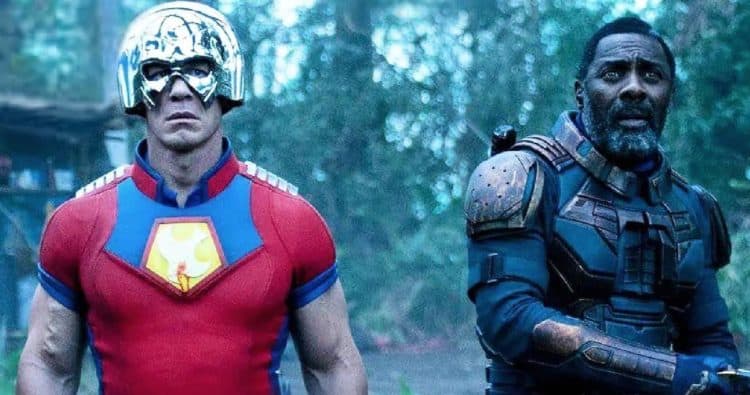 One of the best rivalries in the DC Cinematic Universe is between Bloodsport and Peacemaker from The Suicide Squad. From the very moment Amanda Waller introduced them, they instantly disliked each other. Both of these guys could do the same thing, except both men were adamant that each of them could do it better. And during the beginning of their first mission together, they had a little contest. Basically, it's the kind of thing you would expect to see in a James Gunn movie. Both of these elite killers competed for who would get the most kills and on top of that, who would kill in better style. I would personally call it a draw, but Bloodsport was definitely annoyed by Peacemaker's snotty attitude and legitimate skill set. For those who saw The Suicide Squad, the ongoing rivalry between Bloodsport and Peacemaker was probably one of the highlights for you. First of all, it's almost impossible to dislike a performance from Idris Elba. And as for Peacemaker, you have to admit that John Cena totally killed it as the jingoistic anti-hero. Every time he was able to flex his muscles (literally) as Peacemaker, he completely sold it as he intended to. Just like he said back in 2020's DC Fandome, John Cena approached the role of Peacemaker as a douchey and bro-y Captain America. Sounds ridiculous on paper, but the former professional wrestling superstar pulled it off.
Even before The Suicide Squad came out, James Gunn confirmed he was doing the Peacemaker series for HBO Max. So when Peacemaker was seemingly shot dead by Bloodsport near the end of the movie, it left us a bit confused. Was the show a prequel series or did Peacemaker actually survive that shot to the neck? It turned out, the latter was the case and the stage was set for the Peacemaker series. If you haven't been keeping up with the Peacemaker series on HBO Max, you're missing out. In my opinion, it is the by far the best DC show ever. A lot of it has to do with John Cena's stellar performance as the titular anti-hero. Throughout the first season, Peacemaker didn't really mention what happened with the Suicide Squad, but he did mention Bloodsport to his dad early in the season. It was a funny moment, since Peacemaker told his dad about Bloodsport's fear of rats. His dad got a kick out of it, until he asked Peacemaker if he was the one who shot him. All the laughter ended after that and their relationship only got worse from there.
What made the Peacemaker series so great was that it actually showed layers of Peacemaker beneath the ruthless jingoism. By the time we got to the finale, you feel like Peacemaker has changed, but still has more of a story to tell. That's probably why a second season got the green light and that's exciting. But hold on, what does that mean for future interactions? A little spoiler alert: the Peacemaker finale had a very surprise cameo. After he and his group defeated the Butterflies, the Justice League actually showed up to help. They were late and Peacemaker berated them for it, but the interaction was just so hilarious. We had a real appearance from the Justice League, but not from Bloodsport, Harley Quinn, or Ratcatcher II. The remaining members of the Suicide Squad most likely think that Peacemaker is dead. Just imagine what their reactions would be once they find out Peacemaker actually didn't die. Better yet, how would they react meeting a far more noble Peacemaker than the last they saw him? You know what? That sounds like something we could see in the second season. It just has to happen. The Bloodsport and Peacemaker rivalry was just too fun to watch for James Gunn to not show us more. And after the finale, I do think that the second season is in a good spot to bring back Bloodsport.
Since The Suicide Squad bombed, a sequel is something we might not see in the near-future. If that's the case, then I wonder when Idris Elba could pop up again as Bloodsport. If not a Suicide Squad sequel or a movie where he fights Superman, then it has to be in the Peacemaker series. We just have to see them go at it again and I don't think Peacemaker is over being shot by Bloodsport. Since Peacemaker has changed for the better, is it possible they could form a functional partnership? That sounds like a fun route to take, but I'd like to see more of their rivalry play out. Another little spoiler from the Peacemaker finale, Amanda Waller's daughter outed her mother's involvement with running Task Force X. This leaves the future of the Suicide Squad in a questionable state. Last time we saw Bloodsport, he blackmailed Amanda Waller into letting him and the team live. Not only did he save his team, but his daughter as well. His relationship with his daughter sets up more to tell from Bloodsport's story. Since his daughter has now developed more respect for her mercenary father, he has a chance to fully fix things between them.
Where should James Gun take Bloodsport next to explore this development. Now leaves a big door of possibilities open. Of rouse, we want the second season to focus on Peacemaker. If Bloodsport does pop up, then he can start out as a rival once again. Developing their relationship is the reason we should see Bloodsport again. I would like to see them participate in another killing contest, especially against enemies like the Butterflies. It may never make them friends, but they can at least work well together. And maybe Bloodsport can change more for the better after seeing how much Peacemaker has changed? This sounds like something James Gunn could have a lot of fun with. I hope to see Bloodsport again in the DCEU and I think season two of Peacemaker is a good place to bring him back. What are your thoughts, DC fans? If you didn't watch the finale yet, get on HBO Max right away and check it out.John Cena
Tell us what's wrong with this post? How could we improve it? :)
Let us improve this post!