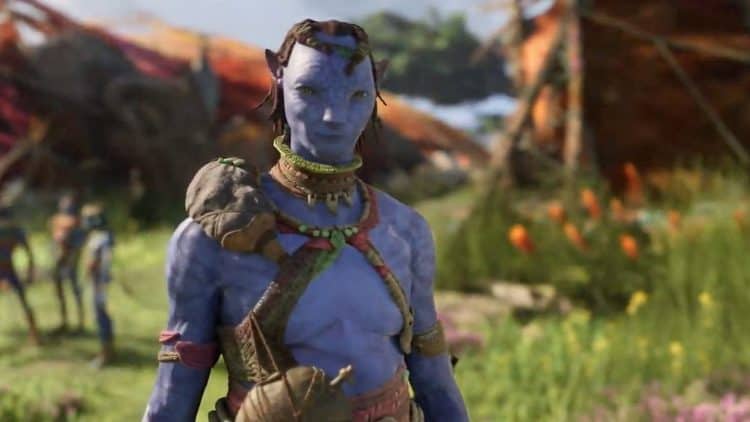 Avatar is one of the highest-grossing movies of all time that was crafted by one of the most revered filmmakers of this generation, Jame Cameron. Cameron tends to create universes that are ripe for videogame adaptations and they usually expand on what his initial vision was. This spans from his work with Aliens, Terminator, and even True Lies. A couple of those titles have spawned quite a few video games over the years, yet Avatar always ends up getting sidelined. The world of Pandora from Avatar has oodles of potential with endless avenues of exploration. Even though the upcoming sequels are going to most likely visit unseen parts of the Na'vi and Pandora, the newest videogame announcement Avatar: Frontiers of Pandora presents as the perfect supplement to the upcoming movies.
Being developed by Ubisoft and Massive Entertainment, Avatar: Frontiers of Pandora will be an open-world adventure that will take place on, of course, Pandora. It's being built with the Snowdrop Engine, which enables developers to constructed highly detailed environments in half the time. This story centers on players taking control of a lone Na'vi that is forced to trek to the western frontier of Pandora, which is a part of the world that nobody has ever seen. There will be new wildlife and foliage that weren't in the movies that will present themselves exclusively in this game. Players will need to stay vigilant because there will be natural predators as well as human threats presenting as a constant danger throughout the campaign. Director of technical programming Nikolay Stefanov mentions, "The wildlife, the AI, the way that they track you, the way that they attack you, the advances in technology and the way that we are taking advantage of the power with our in-house Snowdrop engine is allowing us to do amazing things that would not be possible otherwise." On top of that, the military forces of the RDA are in pursuit of something within the western frontier and it's safe to assume that their A.I. will be a totally different experience in comparison to the wildlife.
Video
Uncharted Vistas
When the trailer was recently dropped, there was some confusion on whether Avatar: Frontiers of Pandora with either be third-person or first-person. Nikolay Stefanov states, "In terms of a new generation of consoles, the improved hardware just gives us so much opportunity to make sure that the game's as immersive as possible." Even though it would be a treat to see this title present itself in third-person, playing it in first-person will certainly give this game a new dynamic. It is evident in the trailer that players will be able to bond with the natural elements of Pandora for players to use to their advantage. They'll be able to mount Banshee's and other beasts to traverse the map and engage in battle.
Weapons will most likely be within the primitive variety in Avatar: Frontiers of Pandora. Shooting with bows and arrows in a first-person Ubisoft-developed game is not out of the norm. From what was seen in the trailer, players will at least be able to enhance their bolts with their bow and ignite things. What the fully expanded arsenal will look like for the Na'vi remains to be seen. Ubisoft's library of first-person shooters all have a robust list of creatively customized firearms. So, there's no doubt that players won't be empty-handed during this adventure. Will players be able to pick up firearms leftover from the RDA? That's definitely something to speculate on.
A Dense Adventure
Avatar: Frontiers of Pandora will indeed be an open-world title and players will be free to explore the exotic moon of Pandora at their whim. The next-gen hardware allows to not only create a huge world full of width and verticality but also pack it with intimate detail. Nikolay Stefanov adds, "New consoles have allowed us to have much better object detail up close to you." This is most likely thanks to the new Snowdrop Engine, which enables the designers to not only be more creative but let the game stay true to its original vision. Thus, on a broader scope, this technology allows the world of Pandora to look all the more astounding. Stefanov says, "But also when you're flying high up in the air, to have a lovely vista and far-distance rendering, where we can ever use the ray tracing to do shadows super far way, you know, three or four kilometers away from you." It lets one imagine how eye-popping this game will look on a large Ultra HD screen with this technology on full display.
The game's creative director, Magnus Jansen stipulates that the little things that players tend to overlook make all the difference will designing games. He mentions, "It's little subtle things that people don't think about, which is how close together are all the places in the world. If you look at it, with the old hard drives, they had to be spaced out very far apart, because you had to stream out the old and stream in the new, so it just created a formulaic world. So, there's a ton of stuff like that." Perhaps, Ubisoft and Massive Entertainment have acknowledged that players were getting some "open-world fatigue" due to the limitations of the hardware. Now, with the current next-gen hardware available, open-worlds can be more organic and alive. Therefore, Avatar: Frontiers of Pandora could be the breath of fresh air this particular genre needs.
Brotherhood of The Na'vi
Currently, there are rumors that this title will also have an online feature. It's not known to what degree. It's highly possible that maybe there will be a co-op option or perhaps a PVP situation. Nothing is concrete as of right now. Even with the short trailer being the only source of gameplay being available, it's enough for fans of this movie to reignite their excitement. The universe of Avatar has been dormant for some time and maybe it's time to re-visit the Na'vi and see what else they have to offer. Before the sequels to the movies come out, Avatar: Frontiers of Pandora will be a nice re-introduction to this world. Avatar: Frontiers of Pandora is slated to be released sometime in 2022 for the PlayStation 5, Xbox Series X/S, PC, Google Stadia, and the Amazon Luna.