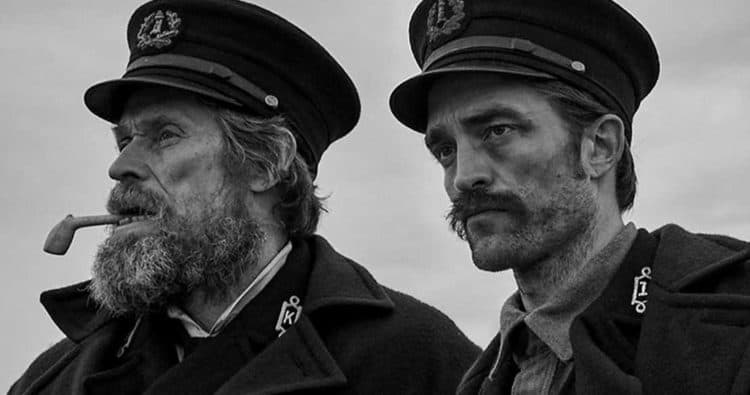 If you've an aversion to madness this might not be the movie for you but if, like so many writers and several that seem to embrace the chaos that lives deep inside of us, you happen to like getting a bit nutty when you watch a movie, then you might want to settle in. There's no good way to spin the fact that this movie revolves around the maddening state of two men that are essentially stuck on lighthouse duty as 'wickies'. Quartered on a remote island and left for a four-week stint, Wake and Winslow are forced to deal with the solitude and mind-numbing routines that the younger Winslow is made to take care of as Wake seems to enjoy an elevated status over his younger charge. Julian Roman of MovieWeb has the right of it by stating that this is a unique experience since quite honestly the mere sound of this movie should send a light shudder down your spin considering that the simplicity of it is a big part of where the madness is taken from. Sounds weird doesn't it? Well buckle up and hold on if you decide to take this crazy train since it goes round and round and has only one logical ending, if you can call it that.
When Winslow makes his way into Wake's orbit the desolation and utter isolation from anywhere and everywhere can be felt almost immediately since the use of black and white almost immediately sets the tone and the grizzled, desperate look of both men seems to further that goal since there's a certain loss of hope and of sanity that can be sensed the moment the ferry has dropped Winslow off. Why in the world would anyone want this undesirable task? As Dora Thompson of the Working Waterfront Archives would say this wasn't a completely hopeless position as it's been seen as necessary for quite some time. Today most lighthouses are automated, but it's still important to recognize the importance and necessity of such stations as ships coming and going from port to port still need a guide at times through rough seas and to navigate around rocky areas. In this movie however the psychological aspect is put on display just as much as the remote setting is. Stuck out at sea on a hunk of rock that obviously is far enough away from land to be inaccessible, the two men slowly descend into madness, though it would seem that Wake might have a huge headstart on Winslow in that regard since absconding to the top level to strip down and enjoy bathing in the light is anything but sane.
As the weeks move steadily on however both Winslow and Wake continue to descend into madness as the isolation, the dreams, and the secrets that each man holds begin to surface without any aid on their part. Stuck in a place where none can see what they might do, with no other company other than an irritating and rather antagonistic gull, Winslow begins to feel his mind unraveling as the days continue to wear on. Drinking, eating, working, and going mad are about all that really exist in this movie as this seems to be enough to descend to the depths of the human psyche and the maddening halls of the soul where many fear to tread and several others might find inviting only to emerge later on ready to tear their own eyes from their sockets. That might seem kind of grim and a little further than this story might really go, but when the reality is peeled back and a person peers into the madness that's bubbling just beneath the surface some days it has to be understood that this is the result of such chaos the moment one taps into even a tiny fraction of it. This story will no doubt be called as something provocative and thought-inducing by many people that want to believe that they understand what it is to go mad, but for those that have seen past the mirror and to the view they might see beneath the surface the feeling of this movie, the raw, visceral truth behind what we present to the world, might actually get it.
Jake Coyle of AP News managed to report on just what Willem Dafoe and Robert Pattinson went through when it came to this movie, and both men agreed that it was something unique and innovative. Without getting into it too deeply, as the actors don't, they kept it pretty light and admitted that it was a story of two guys that were stuck together for work and eventually wound up getting on each others nerves, as would be expected. Apart from that Dafoe thought the story was heightened by not weird. Of course given the type of acting we've seen from Dafoe, weird is kind of his average role.