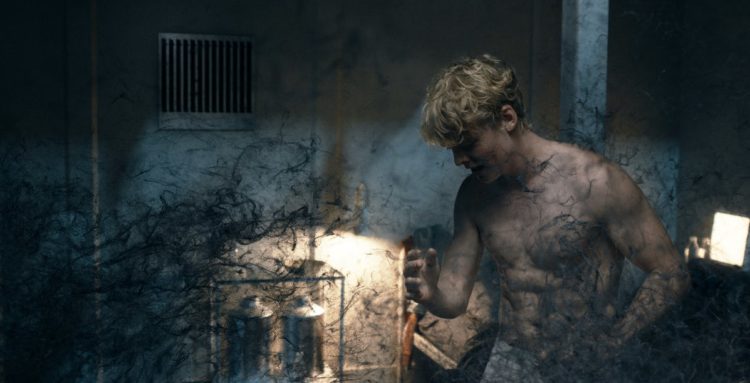 It doesn't seem that a show gets to go out on its own terms that often, but the third season of Rain on Netflix seems to be allowing this show to do just that since it seems to be drawing to a conclusion in a way that might offer a very anticipated climax and resolution that people will at least feel is worthy of the program. The story itself is kind of fun and engaging despite the depressing ramifications of a virus that is delivered to the unsuspecting and unwitting people of the earth through one of the last things that people might expect, rain. Humanity is nearly wiped out as the rain decimates entire countries and sets people to fleeing for their lives or dying horribly as the rain infects them with a virus that can't be stopped and can't seem to be understood by anyone save for a few individuals that might have the answer. Two Danish youths, a brother and sister, are left behind in a bunker by their father, a scientist who might be able to figure out the enigma that swiftly becomes the downfall of the human race.
Despite being seen as a young adult story by Kevin Yeoman of ScreenRant and many others it would also appear that The Rain is something of a horror series that works more on suspense and the possibility of danger rather than the need for something that's in your face and undeniably horrifying. Horror definitely takes on a new definition when translating it into different stories but this is nothing short of brilliant since it's the type of inescapable fear that tends to encapsulate everyone within its folds and offers no real reprieve since the terror is ongoing and the paranoia grows stronger as a rule. Plus, when you want to really push the boundaries of terror and make people wonder 'just how can they get away?' you can always broaden the horizon and the effect and come up with something that's vital to humanity and yet can still be used as a weapon of mass destruction. Think about it, the rain is a necessity of life, but if the rain itself is humanity's downfall then it becomes a humongous liability that you still need but you can't access any longer. What happens if whatever is in the rain doesn't diffuse once it hits the water? What if the moisture brought on by the rain can be used to convey the virus? There are just too many questions to be asked to guarantee that there won't be mass paranoia available on tap for such a series. And yet so far it's been well directed, the acting has been on point, and the story has been allowed to roll forward without too much lag to it.
Jen Chaney of Vulture is correct in stating that this story is a bit familiar, but I'd differ when it comes to which story it mirrors. In a way this story is reminiscent of The 100 with some very notable differences. The idea of the earth being a poisoned and desolate place is still there, but the science fiction is still limited in a much bigger way as the story focuses instead on the horrific aftermath of what has occurred in the six years since Simone and Rasmus were left in the bunker. Since that time they have emerged only to find that the earth is nothing like they remember and that the death toll is astronomical. What is apparent however is that humanity is still very much the same, if not worse since the idea of trusting anyone in this desolate wasteland where resources are scarce and safety is an illusion creates the necessity of being far less humane than ever before. The moment a person is infected they've earned a death sentence, and the fact remains that those who are stronger than others will still take control and lord their power over those that don't have it. This seems to be human nature to be quite honest since no matter how the world ends, each series and movie tends to show that people will return to their more base selves in order to survive, and for many that means becoming the cold, unfeeling brutes that we so typically see in such instances.
Is this series worth watching? Absolutely.
In fact if you like a good scare and end of the world type series then this would be perfect since it not only wipes out the majority of humanity in a way that is nothing short of eye-popping, but it also does so while keeping to the same formula that so many post-apocalyptic movies do, humanity tends to feed upon itself once the end comes, as though accepting the inevitability of their fate has somehow made it feasible to speed the process along just a little bit more. Definitely look into binge-watching this show, it'll be worth your time.