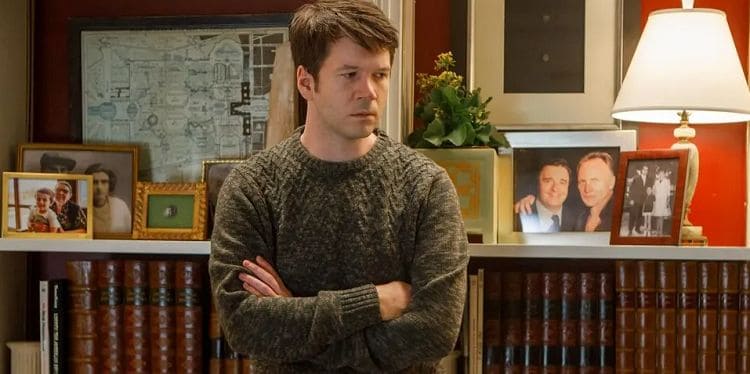 The first season of Only Murders in the Building has officially wrapped up and Jan has been confirmed as the killer of Tim Kono. However, that doesn't mean Jan is the only murderer in the building as Theo Dimas has some bloody secrets as well. The deaf son of the rich Teddy Dimas accidentally pushed Zoe off a building that led to her death. He and Teddy blackmailed Tim into blaming Oscar and the duo would eventually be caught years later. One of the best episodes in Only Murders in the Building is The Boy from 6B, where audiences jumped into Theo Dimas's world by going silent whenever we were watching from his perspective. What makes Theo such a rich character isn't just the fact that he's deaf, it's mostly because of the complex world that's he grown up.
He has a father that loves him, but the challenges of Theo being deaf have certainly weighed on him and his marriage. Oh, and don't forget the hookers. The fact that the show didn't pull the sympathy card just because he's deaf was a nice and bold move that showcased that he's a human being just like the rest of us. There are several directions to go when it to Theo Dimas. The spin-off can follow him as a young boy and the life he's lived that made him the man that he was in the series. Obviously, it wasn't perfect, and given Theo accidentally killing Zoe, it does leave several interesting questions. Based on how swift his father was to react to the situation, was this the first time that Theo hurt someone? It's clear that the young Dimas hasn't had the easiest life to live, but could Theo have a temper that has possibly put a damper on his father's life? There's definitely a sympathetic story when diving into the early years of Theo but given the bold of story portrayal of the character, there could definitely be a lot of surprises that give a wonderful insight into his and Teddy's character.
It's also possible to dive deeper into the moment following the Zoe incident took place. We understand what happens after the moment and what's likely racing through his mind, but what about the day after? Is he scared? Sure, his father saved him from getting into trouble, but committing a crime has to take a massive toll on one's psyche. How long did it take Theo to forgive himself for what he's done? How much did it scar his father? There's still more exploration in regard to his character that's worth investing time in. Given the fact that Teddy came across as a mob boss, what has his father done? As previously mentioned, Teddy's life hasn't been a straight path to riches and fame, how has the actions of his father affected his son? Only Murders in the Building may have been the story about the demise of Tim Kono, but it opened up a rich world filled with colorful characters who may or may not have skeletons in the closet. This is still a mystery show, so the blame game was always to be a big part of it, which in turn open avenues that are worth diving into.
Another route worth exploring is the aftermath once Teddy and Theo are exposed. Surely, their lives are in shambles as the Dimas name has been tainted. What's Theo going through? He may have been responsible for Zoe's murder, but he's still a sensitive soul and the fact the world is crumbling down is surely not a good thing. He'll go to jail, and the process of seeing the rich dynasty now in a world full of lowlifes and scumbags could be a fun and compelling watch. Should the spin-off use the silent gimmick that worked so well in the original series? It would definitely be interesting to go that route, though it could be a tricky balance that may end up being annoying. However, seeing things from Theo's perspective could make you connect with the character, which is why it worked so well in the first place. As you've read, there's plenty of directions to go when it comes to showcasing one of the more complex characters from Only Murders in the Building. The show is packed with layered individuals, but the Dimas family sticks out like a sore thumb. Hopefully, the first season isn't the last time we hear about Theo and his father on the show.
Tell us what's wrong with this post? How could we improve it? :)
Let us improve this post!