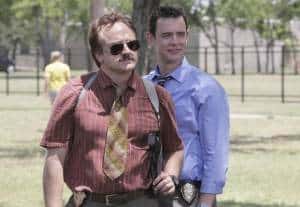 Would you want these guys teaching your kids? Well, Jack would be all right, but Dan is another matter entirely. When our heroes are assigned to the "Junior Officers" program, you just know that this isn't going to go well. Especially when the episode opens with the two of them jumping out windows in order to avoid being shot.
Three days before that, Jack is making doubly sure that Ruiz wants Dan dealing with children; Ruiz tells him that Dan has an "alarming" ability to persuade kids to become cops. I'm not sure if I'm supposed to be impressed or disturbed by that. Yet he goes and delivers his motivational speech to a group of ten-year-olds while Jack looks on cautiously and tries to correct the misconceptions he gives them. Liz happens to see this unfold and thinks Jack likes kids now, which makes her reconsider him…while Dan runs the kids through a practical boot camp and pelts them with Nerf arrows.
This isn't, however, totally a useless exercise, as one of the would-be cops tells the twosome about a suspicious character he saw committing mail theft a day earlier (complete with subtitles in the kid's handwriting). Jack deduces this could be the precursor to identity theft. They go through the evidence that the kid recovered, including a credit card receipt with the name "Jeffrey Eastin" on it, much to the amusement of White Collar fans everywhere. Running his credit card shows them that Eastin has been buying lots of drugs overseas, so he's ripe for the busting. When they go to his last known address, a chase ensues, but the guy Dan tackles doesn't match their suspect's description. He's the real Jeffrey Eastin, and he tells them how his identity was swiped.
Further investigation into other fraudulent charges leads them to a pizza place that has an address for their suspect, whose actual name is Vic (Silas Weir Mitchell). Vic is having a chat with his partner-in-crime Alfredo, played by the always awesome Danny Trejo (Con Air). Alfredo and his buddy Tico (Jacob Vargas) are Mexican drug runners who are plotting to cross the border and do the various dastardly things they do.
Jack and Dan go to track down their identity thief at his apartment, which means that they get shot at for what must be the tenth time this season. By the time they get into the apartment, the perp is gone, leaving just his blaring stereo behind. Jack tells Dan to turn the music down at least, and Dan elects to shoot the stereo instead.
After searching the apartment, Jack wonders how Vic was able to get an authentic driver's license under a fake name. He's sure that Vic has to have an inside source to help him, since that would normally mean producing official documents Vic is too stupid to come up with. He's right – the source being a county records clerk named Perry (Wayne Knight). Our boys bug the local print shop just moments before Perry arrives, and set off in hot pursuit after him, with some help from the same little kid who tipped them off to the mail fraud. "I can't believe you brought a kid on a stakeout," Jack says incredulously. They track Perry back to his house, while arguing over whether or not Jack hates kids. By the time they've settled the argument ("I don't hate kids, I just don't like them very much," Jack insists), Perry has come out begging for help, because Vic is busy trashing his house in a fit of rage.
At the station, Perry spills everything regarding Vic and even some stuff we don't want to know. They're able to turn him and use him to set up a sting – they meet with Vic pretending to be some of Perry's colleagues. However, Vic is too stupid to understand most of what's being said. Meanwhile, Alfredo and Tico have crossed the border and are on their way to assume their new, terrifying identities as….Matt and Phil. A meeting is set up between everyone at their new vacation rental to turn over the relevant documents. Alfredo tells everyone that they're drug dealers, principally because he was planning on shooting them all anyway. That's how Jack, Dan and Perry end up jumping out the windows into the pool below.
Once they get out of the pool, they flee to Dan's car and another car chase ensues. Dan is more concerned about his car than anyone in it, but says he has the situation covered. We find out that twenty minutes earlier, he had all the "Junior Officers" set a little trap, which works perfectly and demolishes Alfredo and Tico's car. Even Ruiz has to admit the guys have done some good work, with the exception of utilizing grade-school backup. It's that last part that gets the case sent to Mexico, much to Dan's dismay. "It's not every day you find out the biggest bust of your career never happened and you wasted a week of your life in the process," Jack tells Liz, summing it up perfectly. However, every single one of the kids has decided they want to be a cop when they grow up, so maybe there's a silver lining.
The Good Guys is always reliable for an hour of laughs that can be watched by all audiences, so seeing an episode that involves kids as a major part of the plot isn't surprising. Another thing that it isn't, thankfully, is annoying. I can think of episodes of other shows where kids turn up and everyone cringes, but The Good Guys put them to good use. (The kid-friendly subtitles were a nice touch.) It's always cool to see Danny Trejo get to flex comedic muscles, because he really is good at it. Once again, Colin Hanks is the best straight man on TV. It all adds up to forty-five minutes of pure, unfettered enjoyment.
This week was pretty great, but if you think this was an awesome episode, wait until next week when Dan not only becomes a suspect, but reunites with his former partner Frank Savage, played by none other than Gary Cole. It's going to be epic. Are you as excited as I am?