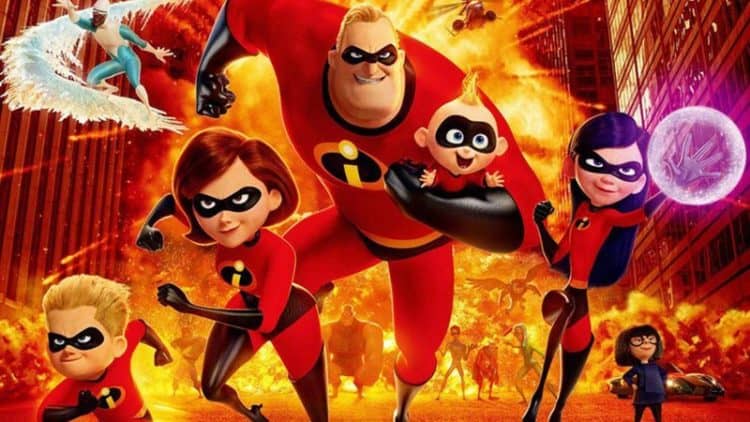 A lot of folks might argue that a sequel made more than a decade after the original is going to be better, or so much worse than the original. In the case of the Incredibles 2 they're right and wrong since the movie was given a lot of hype that it lived up to, and some that it didn't. Let's face the facts here folks, sequels get a bad reputation from the start since they're a continuation of a main story that many people might have felt was wrapped up neatly with a bow. In the case of the Incredibles that's not quite the case since there was potential for an epic battle at the end of the first film before it cut to the credits, but the downside of this is that now that the family was together and united you get the idea that things were going to be a lot easier than they were against Syndrome. In fact that brings me to my first point concerning why the Incredibles 2 wasn't as good as the Incredibles.
The villain wasn't nearly as threatening.
Think about it this way, Syndrome was a young boy that had his hopes and dreams shattered by his idol and was therefore vengeful enough to become the super-villain he eventually turned himself into. His use of gadgets and hi-tech tools was enough to take down one superhero after another until he'd finally gotten to the man responsible for making him who he was, Mr. Incredible. He was the kind of super villain that didn't care about getting his hands dirty and would go out of his way to take down those that he wanted to harm. Unfortunately in the second film, Evelyn is so secretive and so wrapped up in her hatred of supers due to their failure to save her father that she stays off the radar and relies more on subterfuge than Syndrome ever did when it comes luring people in. In other words, there was really no huge threat posed by Evelyn while Syndrome was locked, loaded, and ready for all-out genocide.
The stakes weren't nearly as high.
How much violence does there need to be to make a kids' film PG? That was answered by the first film since Syndrome had no problem targeting just about anyone that got in his way and giving the order to his underlings to do the same. Dash and Violet were seen as combatants remember and treated accordingly, and aside from having some truly stupid henchmen Syndrome was insanely violent since he would have allowed Bob to break his assistant in half just to prove that he wasn't willing to budge. There was danger in the second film, there's no doubt of that, but the situations were too often easy enough to get out of and weren't so dangerous that they couldn't be flipped around by the supers. To be honest the first film was much darker in nature since people had already died, proving that the stakes were very high. In the second film no one had died by the time Evelyn revealed her plan, other than her father of course.
It continued the line of predictability that is inherent within many movies.
Everyone expects the good guys to win, right? There has to be some challenge, some conflict that they either can't simply push through or have to struggle in order to understand, but the overall feeling is that the heroes have to win because that's what the fans want to see. Can you imagine the riots if the supers actually lost at the end? There would be rioting in the streets since it's just not supposed to happen. But what the first movie had over the second is that some folks had already lost, and the predictability factor was still quiet enough that you had to hold your breath and really wonder what was going to come next. There was almost none of that with the sequel. While the second movie had plenty of action and went out of their way to show that things had changed it was still a step by step trip down the predictable path that would eventually put the heroes back together and allow them to defeat the evil machinations of the main villain. There's nothing more vanilla than the hero winning and getting to enjoy the win because that's the way that people want it to happen. But it's a formula that filmmakers keep on going back to again and again, dipping from the same well to produce the same results.
There are ways the film was better, but overall it was the same film with a different wrapper and a much less convincing villain that tried to use subtlety and wound up being forgotten the moment the film was over.