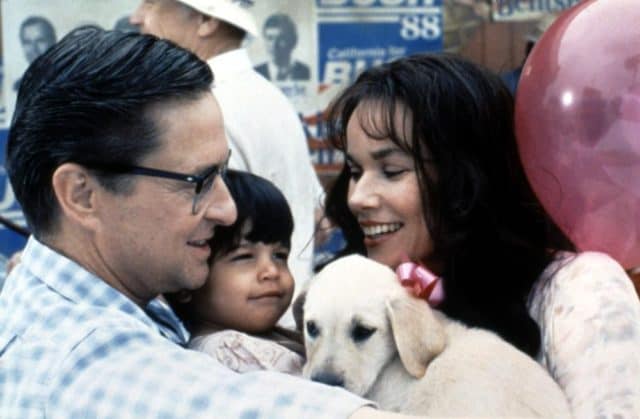 It seems sad to say this but you don't think a lot about Barbara Hershey until you see her in something and remember just how great of an actress she is. She has a way of actually demanding attention without having to say a word. Her mere presence on screen is enough to make you want to tune in and not miss a single second of her performance. There's such an elegant feel to her work that no matter what she does you know it will be done with as much dignity and grace as possible. Even if she's half-crazed, with tear running down her face and making her look like a feral wild woman she's still giving the best performance of her life in that moment. That's sincerity in acting, and it's always refreshing to see.
Here are a few of her absolutely best roles in film.
5. Falling Down – Elizabeth Trevino
She doesn't have a huge role in Falling Down but it's a fairly important one since she plays the wife of the man that has gone a bit nutty. Hershey is adamant about her ex not seeing their child largely because he scares her and also because there is a restraining order set into place. With the kind of obsessive personality that Douglas plays it's easy to see why anyone would take out a restraining order.
4. Insidious – Lorraine Lambert
A lot of people would advise the family to pack up and move, but unfortunately the problem is that their son is like an open gateway for the dead. No matter where they go that gateway remains open and the bad spirits are able to focus on him. That seems to be the curse of a family that is able to traverse the ethereal plane on a whim, even if they don't always know they're doing it.
3. Riding the Bullet – Jean Parker
When your mom falls ill it's time to get your butt to the hospital. But when a dead man make you choose between her life and your own, it becomes a little more complicated. This story by Stephen King is one of the many that have gone unnoticed largely because it didn't get publicized like the others. It's just as intense and just as horrifying however, particularly because of the decision that has to be made.
2. Black Swan – Erica Sayers
To call Nina Sayers neurotic is putting it mildly. And to call her mother the same isn't even close. The lifestyle of a woman attempting to become the star of one of the absolutely most demanding and popular shows on Broadway has to be tough and very demanding, but for some reason it seems like this mother and daughter tandem freak out is only set to make things worse.
1. Beaches – Hillary Whitney
Hillary Whitney was the spoiled little girl that still wanted something other than the life she'd been given. In short she wanted more simplicity and less of the life lessons that she was being given on how to be prim and proper. She and Cecilia were perfect for one another because they were so opposite. A lot of times that's what helps a friendship to last.
Elegance is the name of the game when it comes to Barbara Hershey.
Save
Tell us what's wrong with this post? How could we improve it? :)
Let us improve this post!