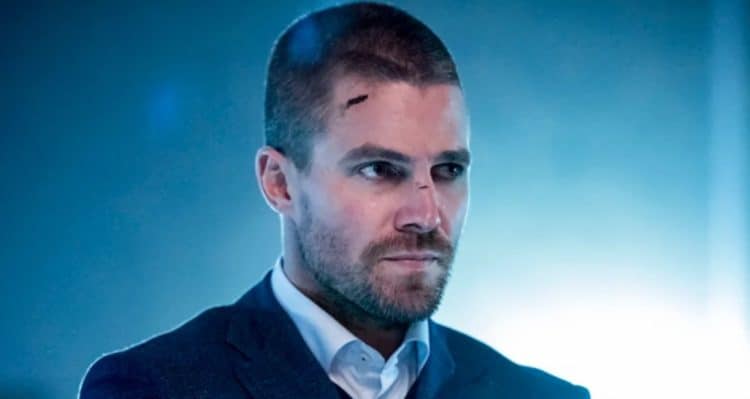 This is definitely one of those times when people don't know who to believe since the media says one thing, that was possibly stated by the airline that escorted Stephen Amell from a flight, while Amell says another thing that contradicts most reports that have been made about it. Who in the world do people believe? There's no easy answer to that question other than to say that the reason why it's even worth asking is that Stephen Amell and his wife Cassandra were apparently having a heated argument on a flight from Texas to California, and as a result of getting a little too loud, Stephen was asked to leave the flight. Cassandra wasn't asked to leave the flight, and made her way to California, while Stephen took another flight 2 hours later and joined her. The former Arrow actor admitted that things got a little heated, but maintains that he wasn't a problem and that he did lower his voice when asked to do so, but was still escorted off the plane 10 minutes later. That's kind of funny though since for starters, a lot of celebrities tend to get away with a lot of stuff, but obviously not all the time.
Another good point is that airlines don't typically wait for 10 minutes after asking a person to calm down and lower their voice, they're usually seen to ask people to leave the flight if they can't control themselves, without leaving for 10 minutes only to come back and tell them that they now have to leave. It might depend on the airline, but it does feel safe to say that if a person calms down after being asked to lower their voice and doesn't cause any further problems, most airlines might actually let them stay on board and not bother them again. If the individual persists in being a problem though, most if not all airlines will ask that person to leave and will even summon airport security if they need to in order for a person to leave the flight. In some cases security and the police are summoned to make certain that there are no problems.
It's not so much of an attempt to discredit Amell's word since the truth is that the media does spin things quite a bit and sometimes pushes an issue that should be next to nothing into a frenzied storm of opinion and intrigue that could have been avoided had the writers that were working the case bothered to show a little integrity. Too many writers in this business want to make things out to be more exciting or more troubling, or both, than they really are, and the unfortunate result is that people end up getting blasted in the news and taken out of context quite often. This can result in the affected individual and even those close to them becoming embroiled in a heated debate about one thing or another, and as it's already been seen all over social media, being aggressive or even loud on a plane is a bad idea since these days it will get a person kicked off and possibly banned from flying if a person continues to cause problems. One of the last places that anyone should want to cause drama in the current era is an airport, sense security is already on alert for any trouble.
But as Amell puts it, via MovieWeb:
"My wife and I got into an argument Monday afternoon on a Delta flight from Austin to LA. I was asked to lower my voice and I did. Approximately 10 minutes later I was asked to leave the flight. And I did so immediately. I was not forcibly removed. I rebooked myself on a Southwest flight 2 hours later and traveled home without any further issue. I let my emotions get the better of me, end of story. Must be a slow news cycle."
As I said, the issue with this is that blaming the media is an easy thing to do since the media is a huge target that can take the hits and keep moving forward. It's less likely for Amell to agree with the airport's point of view simply because it would make him look like a bit of a jerk that couldn't control himself and it would be something he would have to own up to. One thing about some actors that's been revealed is that when it comes to doing something wrong, there are those who will admit it and take whatever is coming to them, and there are those that don't believe that they're ever in the wrong. There are plenty that fall in between these two categories and even outside of them, but one thing Stephen really didn't take into account apparently is that flight staff don't generally kick people off the plane with an escort unless they're being a bit of a problem.