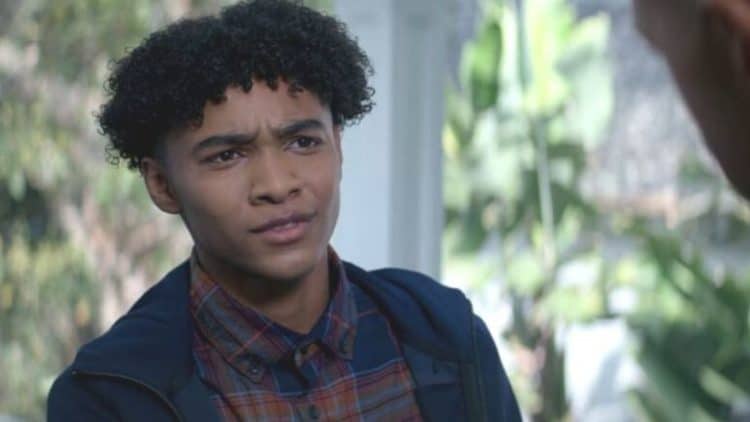 The last year has been a very uncertain time for a lot of people, but Jacob Aaron Gaines is fortunate to be able to say that things have really picked up for him career-wise. Just two years after making his first on-screen appearance, Jacob got his first major break when he was cast as Moses Winters in the Young and the Restless. Landing a role in such a long-running show could easily set Moses up for more opportunities in the future. Although he's relatively new to the industry, he is already showing viewers that he has what it takes to become a true star. While you may not be familiar with him just yet, you might want to get used to hearing his name because he will likely be around for many years to come. Here are 10 things you didn't know about Jacob Aaron Gaines.
1. He Appears To Be Based In California
Since Jacob is still so early on in his career, there aren't a lot of details about his early life. Based on some of his old Instagram posts, however, it appears that he is located somewhere in the Los Angeles area. We don't know for sure if that's where he's originally from or if he moved there to pursue acting.
2. He's Been In Commercials
Aaron may not have a lot of TV or film experience just yet, but that doesn't mean he's a stranger to being in front of a camera. He has been working hard for the last several years to lay a foundation for himself. According to the Soap Opera Network, Jacob has been in about six nationwide commercials although the companies he's worked with weren't mentioned.
3. He's Not Really Into Social Media
As an up-and-coming actor, most people would probably assume that Jacob spends a decent amount of time on social media building an online presence. That couldn't be any further from the truth, though. As far as we can tell, Instagram is the only platform that Jacob has an account on. He hasn't posted any new content since September of 2019.
4. He Only Has Four On-Screen Credits
If Jacob's face doesn't look familiar to you just yet, that's because he hasn't been in a lot of things yet. At the moment, he has just four on-screen credits and that includes his role in The Young and the Restless. People who have seen his work would likely agree that he's going to have many more credits in the future.
5. Fans Are Excited To Have Him On The Young And The Restless
Joining a show with a history as long as The Young and the Restless' can be very intimidating. However, Jacob has no issues rising to the occasion. Fans are already praising his work and commending him for coming in and putting on a good show immediately. It looks like he's going to be a great addition to the show.
6. He's Already Worked With Some Big Names
Despite not having a long resume, Jacob has already gotten the chance to work with some very well-known people in Hollywood. His role in the 2020 Netflix movie Fatal Affair gave him the chance to work side by side with Omar Epps and Nia Long. Being on The Young and the Restless has also given him the chance to work with some legends.
7. He's Very Private
The spotlight can be very alluring and there are lots of people who can't resist once they get a little taste. Jacob, on the other hand, doesn't appear to be too interested in being the center of attention all the time. So far, he appears to really appreciate his privacy. In addition to not being active on social media, he also hasn't done any major interviews.
8. He Is Likely Somewhere around 18-Years-Old
Since Jacob is a private person, we don't know his date of birth. Old Instagram comments, however, suggest that he is probably around 18-years-old. This puts him pretty close to the same age as the character he's currently playing on The Young and the Restless.
9. It's Unclear If He's Had Any Formal Acting Training
There are lots of people in the entertainment industry who believe that the best way to get acting experience is to start auditioning for roles. For others, however, going to drama school is simply par for the course. There's no information on whether or not Jacob has undergone any formal acting training.
10. There's No Mention Of Him Being Signed To An Agency
Typically when announcements are made regarding an actor joining the cast of a show, their management and/or talent agencies are typically mentioned. In Jacob's case, however, there's no evidence of him working with an agency of any kind. This could possibly mean that he's currently in search of one.
Tell us what's wrong with this post? How could we improve it? :)
Let us improve this post!