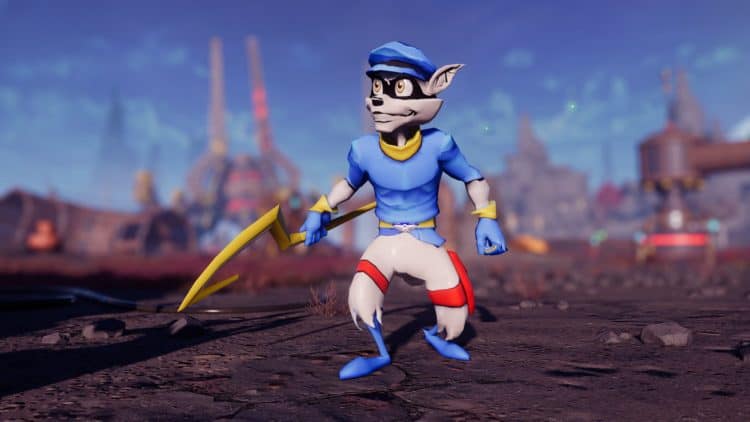 If Sonic the Hedgehog and Detective Pikachu can get their own movie adaptations, then so should Sly Cooper. I mean, even Warcraft got the live-action, but also animated movie treatment, and that was something I was actually excited for. I'm not even a big World of Warcraft fan, but it looked cool. I know I shouldn't get excited about video game movies, but a man can hope. For that time, my hopes were once again dashed. I still haven't watched Detective Pikachu or Sonic the Hedgehog from beginning to end, but I heard they're good. That makes me hopeful for the future of video game movies, but I must say, I was very impressed with the way both characters looked in those movies. They were technically live-action movies, but the characters themselves remained in CGI, animated form. And thankfully, Sonic was highly redesigned. Seriously, that initial design was bad.
Now that a second Sonic the Hedgehog movie is on the way and with the recent news that Idris Elba has been cast as Knuckles the Echidna, I'm nothing but hopeful. Let's face it, the first Sonic the Hedgehog movie was the most successful superhero movie of 2020. Granted, it was 2020, but I think it's a strong indication of how good the live-action video game movies can be. And if they're going to be better, I say go for some seriously underrated, but still recognizable video game characters. My top choice would have to be the anthropomorphic raccoon gentlemen thief known as Sly Cooper.
So why Sly Cooper? There are so many popular video game characters to choose from, but the raccoon is the one I want to see. I remember playing the first Sly Cooper game back in 2002 and fell in love with the character. Heck, I even fell in love with the lore behind the character. I unfortunately never really kept up with the series, but I love the gameplay, I love the supporting characters, and the colorful villains. I'll even watch the intro videos for the villains on YouTube once in a while just because they're so interesting. Maybe it's because I just like the anthropomorphic animal schtick, but the Sly Cooper series is just so creative about it, I can't help but imagine if this will be well-suited for a movie.
In fact, I think it would make for an awesome movie. With the fifth installment supposedly in development, I think the timing is also spot-on. Do we need actual people in the movie like the Detective Pikachu and Sonic the Hedgehog movies? Probably not, but at least those movies made it work. If Sly Cooper can somehow interact with real humans, then that would be interesting to see. Maybe he can even plan a heist with a group of human thieves. Now we're talking about pushing some boundaries. But if I want to see a Sly Cooper movie, I want to see the history behind his family of master thieves. And perhaps we can see the villainous Clockwerk before he became a machine. I'd like to see where that rivalry all began and a movie about the early days of the Cooper Clan would be very fun.
Speaking of the Cooper Clan, how about showing us where they started writing the Thievius Raccoonus? Recovering the pages of that book was the center focus of the first game, but where did it come from? Well, it was literally centuries of knowledge in the making and passed down to Sly Cooper. Based on what we've seen in the games, the Cooper lineage stretches back a long way, from Ancient Egypt, to Medieval Europe, to Feudal Japan, and even the American Frontier. A Sly Cooper movie can give us more insight as to the beginnings of the Cooper Clan and how they became a notorious band of thieves. What would be even more interesting is if it explained why they approach thieving the way that they do and their philosophy behind it. Basically, Sly Cooper and his family are the Robin Hood of video games.
So he's a gentlemen thief with a real conscience, and yes, we've seen that before. But we haven't seen this from a talking raccoon with a cane for a weapon, have we? And if this movie is really going to respect the games, it must include the dynamic music. If you played the game as a kid, you might remember hearing the music build up as you snuck behind unsuspecting enemies. And when an alarm went off, the music really cranked up. Sly Cooper is a cunning fighter who's capable of defeating much bigger enemies, such as Mugshot and the Panda King, and there was constant music ramping up. Even when his buddies Bentley the turtle and Murray the hippopotamus were in the field, different music came on.
Speaking of Bentley and Murray, I think a Sly Cooper movie can show us how this trio first met and became a little merry gang. It's not Sly Cooper without his buddies and speaking of which, we can't forget his rival/love interest, Carmelita Fox. Yeah, this would be a movie for the younger crowd, but Carmelita Fox is that gorgeous femme fatale character who you don't want to mess with. They can make her slightly less sensual if they have to, but the way she looks is why we remember her as a character. In fact, that's why Sly Cooper likes her too, even though she constantly pursues him to put him in cuffs.
And what else can it do? Well, at one point, GamesRadar called Sly Cooper the "Danny Ocean of gaming", a title that seriously fits. A Sly Cooper movie needs to be about these characters pulling off some kind of heist. That was always the fun of playing the games, because you got to steal things from terrible talking animals. And since the games were super creative with the boss fights, I think the movie can actually do it better. What are your thoughts, gamers?