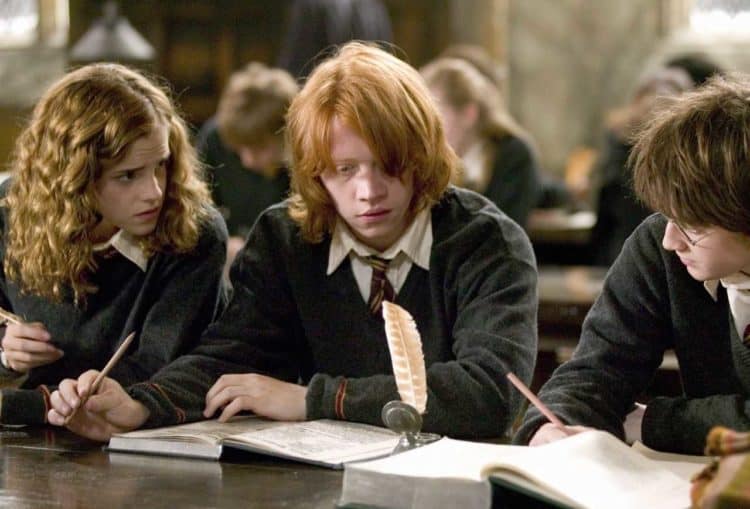 It's thankful that Rupert Grint didn't garner a bad reputation on the set of Harry Potter for anything that might be considered gross or otherwise disturbing, but his nickname, 'Go Again Grint', did become a bit of annoyance between Rupert and the rest of the cast since he had a habit of laughing at the most inappropriate times. A good example is a fact that he laughed during Dumbledore's funeral and when he and Daniel Radcliffe's characters first met. The latter actually forced the two of them to shoot their scenes separately so that Rupert wouldn't be tempted to burst into a giggling fit since this was apparently kind of common. It's not the worst habit one could have, but it did earn Rupert a reputation that wasn't entirely useful since he would take so much longer to finish a scene than many others. Still, he was considered a big part of the cast since as Ron Weasely he was the best friend of Harry Potter and eventual love interest of Hermione Granger, which became kind of weird for Grint and Emma Watson admittedly since the two of them stated that after spending so much time around each other they had developed a bond that made them feel more like siblings than anything and having to kiss each other in the final movie was an odd feeling, just as it was for Daniel Radcliffe and Emma to do the same in the first part of the Deathly Hallows.
Some actors manage to gain a bad reputation for a number of things from being a bully to simply not getting along with their costars, and some even have a bad reputation for poor hygiene, but Grint's reputation is awkward, to say the least, but not the most horrible that's ever been recorded. But laughing at awkward moments is sometimes a person's way of getting through it, even if one is acting, since like it or not the Harry Potter movies did get emotional at times. Some people can't handle serious moments without breaking down into gales of laughter, which is better than tears or becoming so anxious they feel nauseous to be perfectly honest. There are some folks that can't handle a moment and might need to vomit since their anxiety hits the roof, while others will in fact break into laughter simply because they don't know how else to react. It's an odd habit but some people do possess it, and it takes a good deal of effort to work past it and avoid laughing at moments that might make a person nervous. In fact, some people might even consider seeking therapy for this since a case of nerves can ruin an actor if they're not cognizant of what's causing it.
But overall, Grint was one of the most important parts of the story and it's easy to think that as long as it might have taken the movies did get completed and he was probably given a sound talking-to a few times simply because the extra time was necessary. But as a lot of people have seen the overall feeling of having Rupert on set was great since a lot of the actors did manage to get along behind the scenes, which is what helps to make a movie run a little more efficiently. It's hard to believe that so many years have passed by already and that audiences have had the chance to watch the children from the initial stories grow up to be the actors they are now. While Grint hasn't gone on to do as much as Radcliffe or Watson, he's still been held in high regard by many fans since Ron Weasely wasn't exactly the everyman, but he was easy to relate to since he was the awkward kid that was friends with one of the most popular kids, and yet he had so much more of an advantage in life than Harry that it was easy to forget that Harry was actually the more disadvantaged between the two of them. After all, Ron came from a loving home, in its own way, had plenty of support, in an awkward way, and he knew far more about magic than Harry did, even though Harry became a much more powerful wizard. Yeah, that kind of makes Ron sound like the odd man out, but he still had plenty of advantages as a character that Harry had to do without.
It does sound as though it might be kind of frustrating to work with someone that kept laughing at the most awkward moments and ruining the take, but at the same time, one can easily guess that the cast became used to it after a while since Rupert was never replaced and the rest of the cast speak of each other with fond memories.