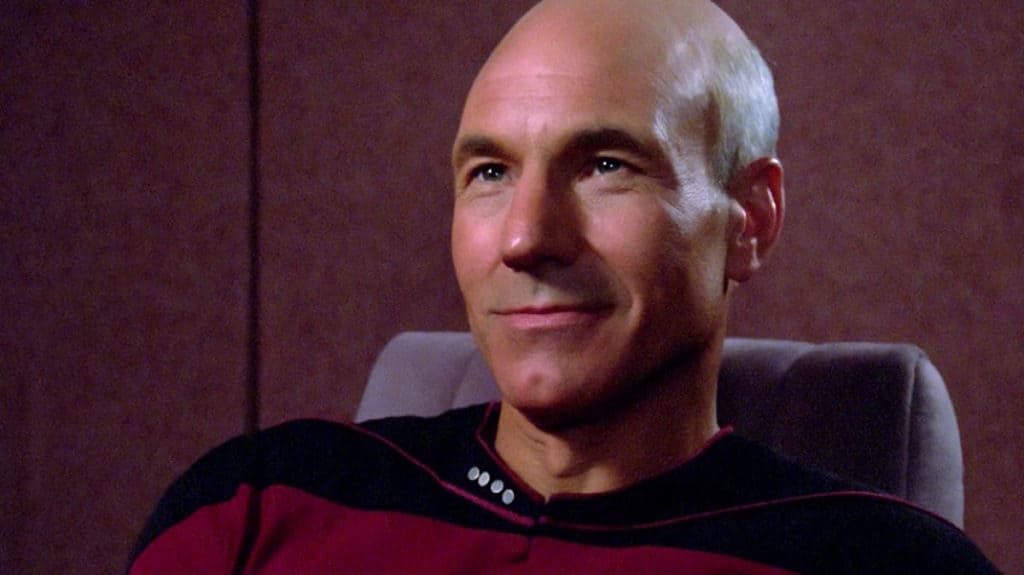 Quite a few people would say that it's very easy to state why Captain Picard was and still is the best character that was cast for The Next Generation since his popularity hasn't really died down over the years. In fact, it's increased as more and more people have come to the franchise and realized just how great the character is, not to mention that many would rank him above the legendary Captain James T. Kirk. Back in the 90s, that statement might have been met with a lot more pushback from the fans, but as of now, Picard is definitely the favorite of many since over the years his reputation as one of the most astute Starfleet captains has continued to grow. What's funny about this is that he doesn't have the same look as Kirk did, nor quite the same brash and overwhelming personality. Instead, Picard had something else that Kirk was lacking at times, humility. He's never been the type to back down from people or situations when it's time to stand up and be heard, but Picard has practiced being humble far more than Kirk ever did.
On top of that, Picard interacted with his crew in a much different way than Kirk did, which is obvious and was bound to happen since they're two very different people. There's no doubt that Picard has had his moments when he's a bit tough to deal with and has even displayed behaviors that weren't exactly desired. But on average, Picard has been the type of captain that many people have wanted to see. It can be said that he wasn't entirely comfortable having Wesley Crusher on board and that he wasn't entirely welcoming of the kid, but seeing as how Wesley was kind of a nuisance for a while it's also not difficult to think that with everything else he had to do, Picard didn't really need another issue to deal with. That might sound harsh when describing another living being, but the fact is that Wesley was old enough to understand how to just stay out of the way, even if he usually didn't.
One thing about the captain of a ship that many people forget at times is that they have a huge set of responsibilities to deal with both in reality and when it comes to fiction. Even being an actor, Patrick Stewart had to have a certain air of authority about him that would inspire others and get them to believe in his character, and obviously he made that happen since Picard became a huge name within the franchise that many people have looked up to and glorified in their own way. Where Kirk was kind of the bad boy captain that circumvented the rules when he felt the need and did things his way, Picard was someone that could do the same thing but often stayed within the boundaries while doing what he could to figure out the best method of saving the day without having to step on too many toes. He's never been a complete do-gooder, but he's also someone that can operate within his lane in a very efficient manner.
Captain Picard isn't perfect obviously, he never was and still isn't, but he's taken on challenges and trials just as many Starfleet captains have and has come through most of them intact and without taking on too many losses. He's had to watch members of his crew die, he's had to pick up the pieces again, and he's had to find a way to push forward, but he's done so in a manner that has made a lot of people follow and love him for years now. There are times when he's been hard to bear simply because his pride gets in the way, but more often than not he's been a pillar for his crew to lean on and follow when things get rough and he's been one of the best captains that have ever graced the screen, both big and small when it comes to Star Trek. It could have a lot to do with the fact that Patrick Stewart doesn't come off as a conceited and arrogant jerk a lot of the time since Kirk, or rather William Shatner was rumored to have beef with more than one cast member in his time.
The truth of this depends on who's being asked of course, but it would appear that there was less drama concerning Stewart's time on set than there was with Shatner's. This is just a small part of what made Picard such a favored character on TNG since the captain was one of the many characters that knew how to sacrifice when necessary and be completely selfless as well. Many might still hold Kirk up as an icon, but Picard has definitely passed him throughout the years in terms of fandom.