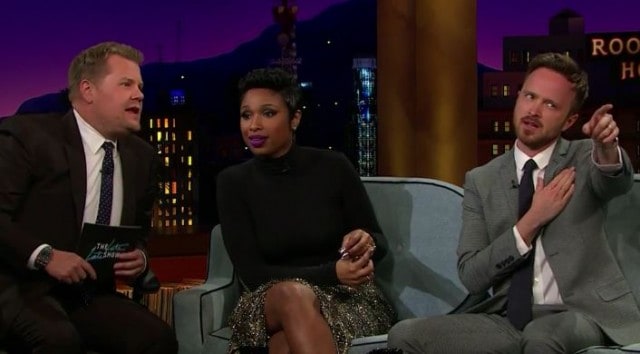 Aaron Paul may be starring in a new series, Hulu's The Path, but he'll never forget about Breaking Bad's incredibly passionate fans. In fact, as Paul described to James Corden and Jennifer last night on The Late Late Show, some viewers loved the AMC drama and his character of Jesse Pinkman so much that they actually ended up crashing the actor's wedding.
"We had three people crash our wedding," Paul said. "We didn't know it happened until we started looking through photos of our wedding, and we saw these three strangers. We were like, 'Who are these people?' We had a 1920s Parisian Carnival wedding, so it was very themed, and these people were just in basic wedding attire. They stood out like a sore thumb."
Perhaps the craziest part of the whole ordeal, though, was that one of the fans who crashed the event almost caught the bouquet from Paul's wife, Lauren Parsekian. Paul said that the fan "violently dove" for the bouquet and was incredibly determined to get it, although she ultimately failed to.
"And you still don't know who they are? They haven't made themselves known to you on Twitter or anything?" Corden asked Paul about the wedding crashers before joking that they were actually here at The Late Late Show.
Watch Aaron Paul discuss the whole situation in the video below:
[Photo via YouTube]
Tell us what's wrong with this post? How could we improve it? :)
Let us improve this post!